Samsung introduces Galaxy K zoom, a proper Nokia Lumia 1020 competitor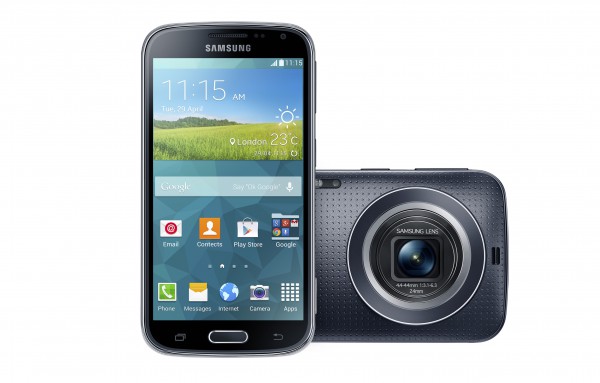 There is not even a shred of doubt in my mind when saying the best camera smartphone is the Nokia Lumia 1020. Aside from packing an impressive sensor in a relatively small body, it is the only device of its kind that was actually designed to be usable daily as a normal smartphone.
Its main competitor, if it can be called that, has been the Samsung Galaxy S4 zoom. Put kindly, it is the unholy union between a point-and-shoot camera and an Android smartphone. It is far, far, far from being remotely pretty and as such, mockery ensued. Thankfully, Samsung has gotten the message, as its successor, the Galaxy K zoom, is more like the Lumia 1020 and less like something only Frankenstein would appreciate.
The other problem the Galaxy S4 zoom has is its association with the Galaxy S4, with which it actually has very little in common aside from the name. The latter is, in comparison, far more usable as a smartphone and, arguably, not that far off in the camera department. Of course, the gimmicks are still there (Selfie Alarm, anyone?) and the design has not seen that big of an improvement.
The specs that define the Galaxy K zoom are its 20.7 MP back-facing camera with 10x optical zoom (that is the equivalent of a 24-240 mm, with a varying aperture of f3.1 on the short end to f6.3 on the telephoto end, zoom lens in full-frame terms), a hexa-core processor (that is comprised of four cores running at 1.3 GHz and two cores running at 1.7 GHz), 4G LTE cellular connectivity, physical dimensions of 137.5 x 70.8 x 16.6 mm and a weight of 200 grams.
It is not quite as slim as the Lumia 1020, but, on the other hand, the Lumia 1020 does not have a zoom lens (the Nokia-branded Windows Phone is 10.4 mm thick, not taking into account the camera protrusion, which, on the Galaxy K zoom translates into a thickness of 20.2 mm).
Other specs worth mentioning include: 4.8-inch Super AMOLED display with a resolution of 720 by 1280, 2 MP front-facing camera, Xenon flash, Android 4.4 KitKat, Bluetooth 4.0 LE, 2 GB of RAM, 8 GB of internal storage, microSD card slot and 2,430 mAh battery.
Available colors include black, blue and white (gold fans will be sad to know this shade is not offered). There are no details announced at this point concerning pricing or availability.