School district goes gaga for Google -- Chromebooks, tablets and services, oh my!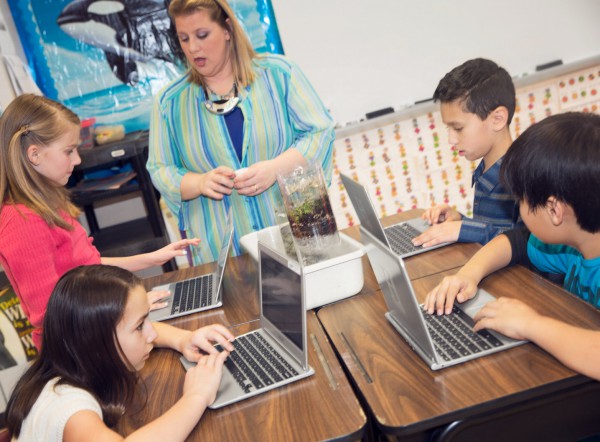 Students nowadays are very blessed to have so much inexpensive technology at their fingertips. When I was a young boy in elementary school, I had to learn the Dewey Decimal System so I could find outdated books in a smelly library. Even if I found a decent book, there was often doodles of private-parts on the pages. Hell, writing something like a book report was done with a pen and paper because, who could afford a computer?
Chromebooks and Google services are now empowering students with access to technology that enhances the learning experience and increases group collaboration possibilities. The search-giant even offers a solution called 'Google for Education', which it describes as "affordable devices, innovative tools, and educational content built just for the classroom. Technology that helps inspire curiosity and boost productivity". The Hillsborough Township School District is the first district to offer the complete Google for Education package and it is seeing great success.
"Jennifer Tuller and Carrie Sanchez are 5th grade science teachers at Auten Road Intermediate School in New Jersey, part of the Hillsborough Township School District -- the first district to offer its students and staff the complete Google for Education solution. In Hillsborough, the students and teachers work together with Google Apps, Chromebooks and tablets with Google Play for Education", says Miriam Schneider, Google for Education.
Schneider further explains, "I was extremely inspired by what I saw. Students were working on an ecocolumn project, where they were closely observing the interaction between living and non-living elements in land and water environments. Before this year, the teachers told me, students had to individually log their observations on paper, which limited them from working as a group. But this year, students eagerly documented their observations together in real-time with Google Docs on their Chromebooks, compared the growth in their ecosystems by looking through the photos they had taken with their tablets, and presented the final report of their findings through Movenote -- an app in Google Play for Education".
While other solutions could probably accomplish the same goals, Google for Education seems to be very focused and well designed. Clearly, there is a strong emphasis on collaboration, and by keeping everything in Google's world, this becomes easily achieved. Remember, this is not just a school district using Chromebooks, but all of what Google has to offer for education. I think the Hillsborough Township School District made a good choice and the students will benefit immensely.
Photo Credit: YanLev / Shutterstock