AMD AM1 platform -- build a great PC without hurting your wallet [Review]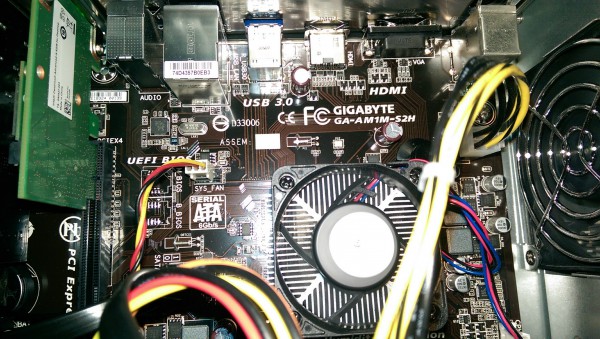 Money is the key to solving many of life's problems. If you have cash, you can just throw it at your problems and like magic, they go away. Computer-building is the same way. I mean, if you want a nice computer, you only need to buy quality parts. However, throwing money at a system-build is the coward's way. For a system build to impress me, it should be a mix of power and value. Most importantly, it shouldn't be wasteful. For example, if you buy 16GB of RAM and dual graphics cards to run in SLI, but all you want to do is surf the web, you have failed. You should have saved some money and built a more tame computer. Now, there is nothing wrong with planning on the future and building for perceived possible future needs, but it is easy to overdo it.
When I first caught wind of AMD's AM1 platform, I was immediately intrigued. Like I said, I am impressed with value and this new platform certainly meets that criteria. If you aren't familiar, the AM1 platform is socket-upgradeable and extremely affordable. The system I have been testing has a motherboard that sells for $35 and a processor (APU) that costs $60 and that is on the higher end of the platform! Excited? Read on.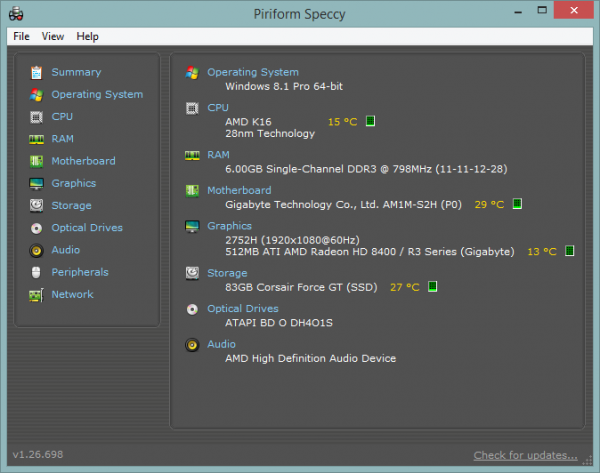 AMD sent me the following components:
Motherboard: GIGABYTE GA-AM1M-S2H ($35 on Newegg)
APU: AMD Athlon 5350 Kabini 2.05GHz Quad-Core ($59 on Newegg)
RAM: Samsung 4GB DDR3 1600 (Approximate price $45)
Motherboard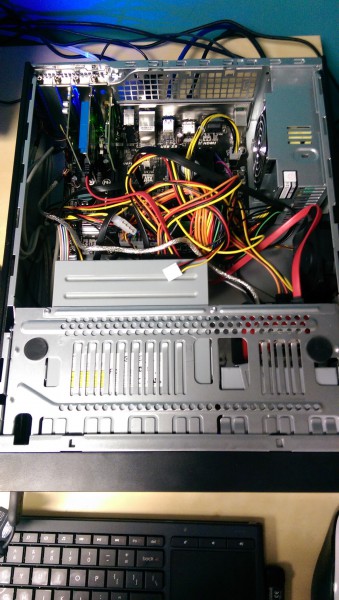 The motherboard is simple and I like that. It offers the basics, but there are some premium aspects too. It has an HDMI out, from which the APU can push 4K resolution. For legacy monitors and projectors, VGA is here too.
Sound is basic, with an onboard Realtek chip. Audiophiles will likely want to upgrade, but for most consumers, it is absolutely fine. The board features pins as well, for connecting the audio ports on the front of your case.
The two RAM slots are surprisingly single-channel, but that is the nature of the platform. While dual-channel is preferred for performance, I liked that I could use mixed sets of memory, since it was single channel anyway.
The most problematic issue with the platform, is that it is limited to two SATA III ports. Some manufacturers have added more, by integrating additional chips. But a pure AMD AM1 board will not see more than two. The reason I see this as an issue, is that it is a great platform for a Home Theater PC. Once you add an optical drive and an SSD, you cannot add anymore drives, like a big HDD.
If you do want to add more, you have a few options. The two best would be to use a USB 3.0 hard drive or add a SATA controller card. The board I am testing features 2 PCI-e 1x slots, plus a longer 16x slot that runs at 4x. A decent SATA III card will run about $20, which isn't a lot, but technically, when you are adding it to a $35 motherboard, it can seem excessive. There are 2 USB 3.0 ports on the rear, so a USB drive may be the best option.
Add-ons
All that is needed on top of the motherboard, RAM and APU is an SSD or HDD, Case and power supply. For this test, I purchased a Rosewill MicroATX slim case and PSU combo for $50 at Amazon and repurposed an unused 90GB SSD. A decent 120GB SSD can be had at Newegg for around $90. I also bought a 2GB Samung stick of ram for $17 (after rebate) at Newegg.
Other things you may want to add are a Wi-Fi card, additional SATA controller card or USB 3.0 card. If you have to buy them, so be it. However, I look at AM1 almost like a Raspberry Pi -- try and reuse existing components. Have an old PCI-e USB card in a drawer? Throw it in here. A USB wireless card collecting dust? Bring it on. Have fun by repurposing unused hardware. In my situation, the case I bought accepts low-profile cards. Luckily, I saved all of my low-profile brackets, even though I've never owned a low-profile styled case before. Three cheers for hoarding!
Performance
I immediately thought of this as the perfect Linux machine. This proved to be a falsehood. Now, don't get me wrong, it runs Linux fine. I tested with Ubuntu 14.04 and everything works. However, video performance is terrible. High-definition YouTube video stutters with open-source drivers and the proprietary AMD versions were worse, causing issues with wrong resolutions and blurry text.
(Update: Linux performance is much better using more recent AMD closed-source drivers. This is a great platform for Linux!)
I quickly abandoned testing it for Linux and went with Windows 8.1 instead. Guess what? It handles Windows like a champ! It can boot in under 10 seconds to the login screen, and the video performance is amazing. 1080P YouTube videos played flawlessly and beautifully.
My main computer is an Ivy Bridge Core i5, and yes, it is much faster. But, for doing normal tasks such as playing video, music, surfing the web and running Office? It is wonderful.
I am not a fan of benchmarks -- I prefer real-world feel -- but I decided to do a couple, so I made sure to have the latest stable AMD drivers. I installed 14.4 WHQL, which is quite recent. This installs both video and chipset drivers.
My first test was the SSD. Now, the test will be affected by two things -- the SSD itself, plus the onboard SATA controller. I noticed that the computer seemed a bit slow in copying files and I wanted to see if my suspicion was true. Below is the HDTune results: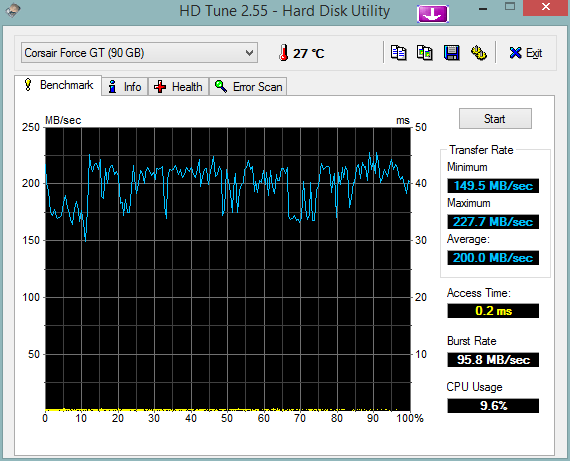 This is passable, but I have achieved much higher speeds with this same drive on other machines. It is slower than it should be. The Corsair force GT is a rather peppy drive. And so, I must chalk it up as poor performance from either the SATA hardware or the drivers. Keep in mind, this is still a very young platform, so I do expect performance to improve as the drivers mature.
The other benchmark that I ran was 3DMark.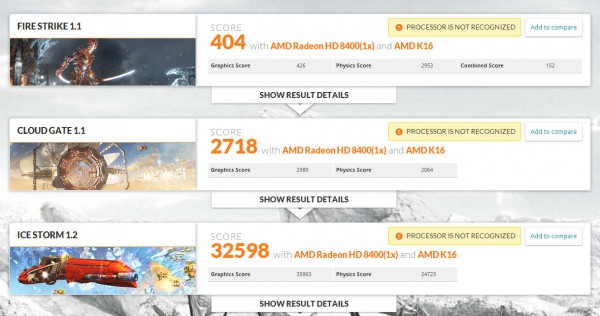 As you can see, the CPU/APU is rather new, and 3DMark did not recognize it. Sadly, this gaming benchmark proved poor performance from AM1, but I expected that. Remember, this is by no means a gaming machine, but it can run low-end games. If you are looking to do hardcore-gaming, keep on walking.
Conclusion
I love building computers and I have been fearful that the hobby would be lost on future generations. After all, kids today are all about tablets and smartphones. However, there is still a need for a true PC in many homes and inexpensive platforms such as AMD's AM1 may open the door for young system builders. Its fun to build a Mini-ITX or Micro-ATX for pennies on the dollar and have Windows run so wonderfully.
It is great for uses as a regular PC, HTPC or even a home server. Since it only uses 25 watts of electricity max, there may be many potential projects that can be done with it -- especially as Linux support matures. If you have a young child that is interested in computers, I wouldn't hesitate to suggest buying some AMD AM1 components for a first build. It would be a great way to learn, without breaking the bank.
Overall, I have greatly enjoyed this platform -- inexpensive, powerful and most of all, fun. Highly recommended.