Lenovo announces N20 and N20p Chromebooks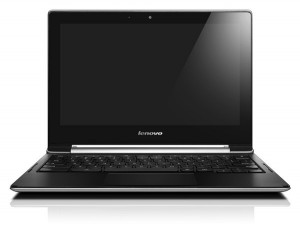 I think it safe to say that the Chromebook movement has exceeded all expectations. What first seemed like a silly Google experiment has blossomed into a legit Windows threat. As the average home user spends more and more time in the browser, Chrome OS becomes the perfect compliment to their lives. The stars definitely aligned for Google too -- a much maligned Windows 8 and poor economy made a low cost alternative laptop very attractive.
While many top manufacturers such as Dell, Acer and HP have created great Chromebooks, the world has been anxious to see Lenovo deliver a consumer model. After all, that company is synonymous with quality. Well, today is that day and the manufacturer has done it in epic fashion, by delivering two models. While the N20 ($279) is rather typical, the N20p ($329) is a multi-mode, touch-screen variant that has my heart aflutter.
"With up to eight hours of battery life and powered by an Intel Celeron processor with integrated graphics, users can quickly and seamlessly boot the Chromebook and immediately begin their task, whether it's watching videos, video chatting using the high definition web cam, listening to music, surfing the web and more without bringing their power cord along. They can stay constantly connected with its WiFi and Bluetooth 4.0. The Chromebooks also come with up to 16 GB internal and up to 100 GB of free cloud storage from Google Drive for storing digital content", says Lenovo.
The manufacturer further explains, "designed for maximum portability, both Chromebooks are thin and light at less than 17.9mm and weighing less than 1.4 kg. With an 11.6-in 1366x768 HD screen, users can comfortably see their work and type by using the full-sized keyboard with its oversized trackpad and attractive cool-touch palmrest".
Lenovo touts the following specs:
Processor -- Intel Celeron
Operating System -- Google Chrome OS
Graphics -- Integrated Intel Graphics
Display/Resolution -- 11.6 inch HD (1366x768) display; N20p: with 10-point multi-touch technology
Memory -- Up to 4GB DDR3L
Storage -- Up to 16GB eMMC storage
Sound -- Stereo speakers; Audio Combo Jack (headphone and microphone)
Wireless -- Bluetooth 4.02; WiFi: 802.11ac
Camera -- Front: 1MP
Battery -- Up to 8 hours
Weight -- N20: 1.3kg (2.8 pounds); N20p: 1.4kg (3.1 pounds)
Dimensions -- 295 mm x 212 mm x 17.9 mm (11.6 in x 8.34 in x 0.70 in)
Connectors -- 2 x USB ports, HDMI-out, MicroSD and SD card reader
As you can see, the specs are rather good, although Lenovo has not yet disclosed the exact model Celeron. While it is safe to assume it is a Haswell variant, that is purely speculation on my part. What worries me is that the company says "up to" 4GB of RAM. Chromebooks really shine with 4GB of RAM, so it would be a shame to see 2GB variants being sold.
I am very happy to see 802.11ac being supported, as many computer manufacturers are still shipping 802.11n. What is particularly interesting, is that apparently, it has slots for both micro and full-sized SD cards. While there has been conflicting information from Lenovo, from what I can see in images, it does appear to have both.
The N20p has me most excited though. Other than the Pixel, the only other touch-screen Chromebook is the Acer C720p, which has 2GB of RAM and is disappointing. The Lenovo N20p may be the first great and affordable touch-screen model. The 300-degree hinge and stand-mode are awesome too -- good for videos and games.
Will you buy one of the new Lenovo Chromebooks when they hit the market in July or August? Tell me in the comments.