Opera 21 adds hardware acceleration, supports full address bar URL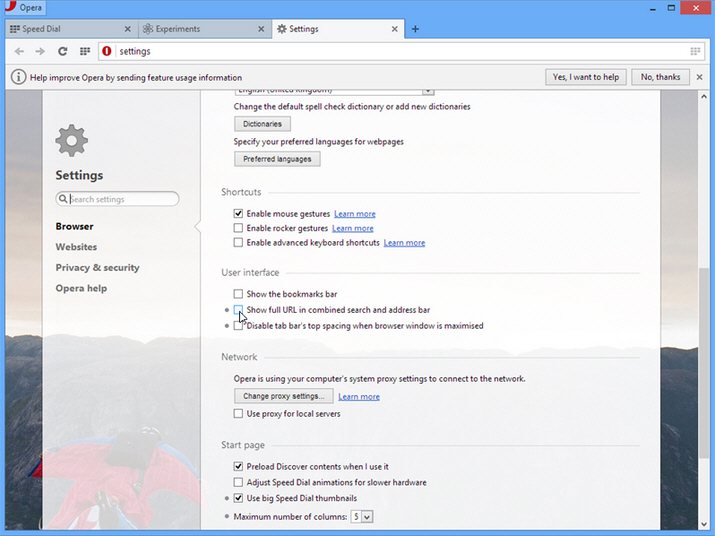 Opera has released Opera 21 FINAL, a major new release of its web browser for Windows and Mac. The notable change in version 21 affects the Windows build only, and sees the browser switch to Aura technology.
Aura provides a hardware-accelerated rendering of the browser, and the Opera development team has concentrated on ensuring it works properly with Opera 21.
The net result of implementing Aura in Opera 21 is the promise of a more responsive feel, with smoother, snappier animations. Now the initial work has been done, future versions should see the technology tapped further to produce more performance gains.
Opera is keen to point out that while the technology hasn't been implemented in the Mac build, it already uses Apple Core Animation technology to deliver similar effects.
The only other notable change in version 21 is a new Address field option. By default, Opera's Address bar shows a cut-down, "simplified" URL field, which removes what Opera terms distracting clutter to focus on the display name and the page security.
Version 21 adds a new advanced setting that allows users to force Opera to always show the full URL -- to switch this on, open Settings, tick "Show advanced settings" and then tick "Show full URL in combined search and address bar".
Other changes include an update to the underlying Chromium engine for better site compatibility, automatic scaling of screens that use 200 per cent DPI settings in Windows and reworked Mac handling to allow better support of web apps including Google Docs and GitHub.
One final notable tweak sees users get an explanation of Off-Road mode (Opera Turbo) when it's enabled. In addition to this, the Opera changelog reveals hundreds more minor tweaks, enhancements and bug fixes in the new release.
Opera 21 FINAL is available now as a freeware download for Mac and Windows. Also available is Opera 12.17 FINAL, which is available for Linux as well as Mac and Windows.