San Bernardino County Sheriff's Department deputizes Microsoft Office 365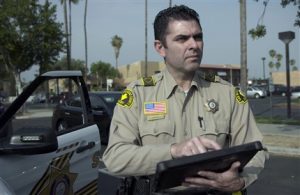 Growing up, I watched a lot of television -- hey, thats what we American kids did in the 80s. One of my favorite things to watch was old episodes of the Andy Griffith Show. You see, it was fun to see how people lived in simpler times. Plus, it was interesting to see a sheriff and deputy keep the peace without hardly ever needing a gun.
Unfortunately for Andy and Barney, there were no computers back then in Mayberry. While the internet would have disrupted the simpler lifestyle, it also would have helped them solve crimes. Heck, they could have implanted GPS in Otis the Drunk to keep track of him. Today, technology is abundant and the San Bernardino County Sheriff's Department has adopted Microsoft's Office 365 to assist them in official business. Yes, Office 365 has been deputized!
"By taking advantage of Microsoft's cloud services, the sheriff's department expects to save money, help ensure compliance with security and privacy regulations from the FBI, and enable mobile workers on the front lines of the geographically largest county in the United States. Once Office 365 is fully implemented, it will provide law enforcement officers and support staff with a secured, compliant way to collaborate with each other across 60 locations. Office 365 can also enable the department to better respond to citizen needs, investigate crimes and carry out administrative tasks, in addition to providing better disaster preparedness and quicker, more informed incident response", says Microsoft.
Shannon Dicus, commander of the information services division, San Bernardino County Sheriff's Department explains, "I don't think a lot of people realize that if we can get information to a deputy on the streets faster, we can be safer and take care of the communities much better. That's really where the return on investment lies".
Microsoft explains that the sheriff's department is utilizing the following solutions:
Office 365. San Bernardino County Sheriff's Department's adoption of Office 365 is starting with a rollout of 200 seats in April 2014, completed in partnership with Planet Technologies, followed by a phased implementation of an additional 2,800 seats.
Microsoft Lync videoconferencing. As part of Office 365, Microsoft Lync videoconferencing capabilities will enable Sheriff's Department staff to hold face-to-face meetings virtually, instead of requiring staff to drive as much as four hours to attend in-person meetings.
Windows 8 ruggedized devices. The department plans to deploy 100 ruggedized Dell devices running Windows 8.1, which meet CJIS and CLETS standards and allow secured, mobile access to data.
While Office 365 is not as exciting as drones, guns and tazers, it is nonetheless vital to the success of the sheriff's department. The technologies being implemented are top-notch, and should result in great collaboration and communication between the officers. Not to mention, it can lead to enhanced security and protection for them, which is always a great thing -- just like Aunt Bee's butterscotch pecan pie!