Microsoft's Office Mix turns PowerPoints into 'interactive online lessons'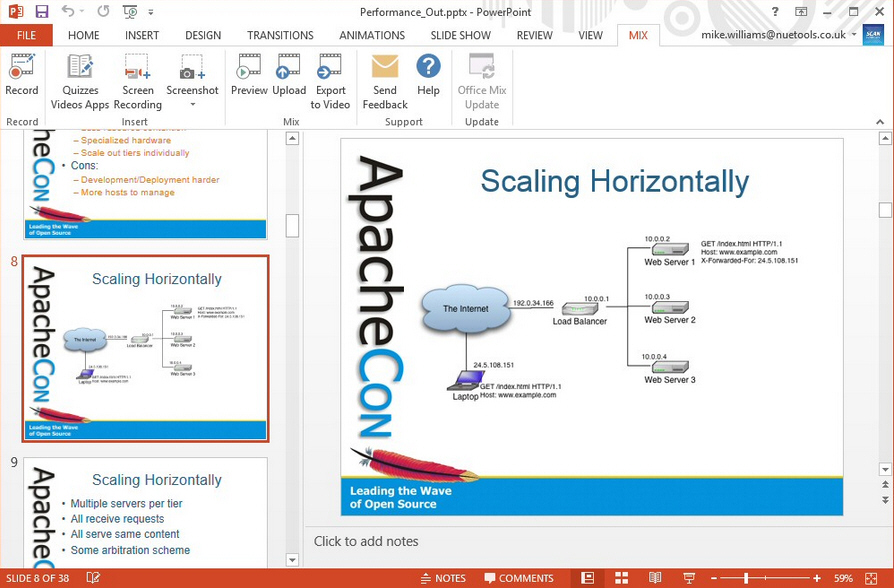 Microsoft has released the first customer preview of Office Mix, a free PowerPoint 2013/Office 365 add-in which makes it easier to create and share your presentations.
There are new tools to record you giving your presentations, draw on slides as though they were a whiteboard, add audio or video, take screenshots or record what's happening on the desktop, all available from the Mix tab on the PowerPoint ribbon.
You can also include custom quizzes, polls, CK-12 Foundation exercises, content from Khan Academy and assorted other apps, direct from the Office Apps store.
Office Mix isn't just about adding new content. The real highlight here is that just clicking Upload will upload and host your presentation for free at the Mix site.
Microsoft says your work can then be watched "on just about any device with a web browser", which isn't quite true. Apple and Android tablets aren't yet fully supported, although apparently that's due to change very soon.
The analytics are another notable plus. If you're tracking individuals then you'll be able to see who watched the presentations, perhaps how well they scored on the quizzes. More generally, you can see which slides were the most popular, and where viewers spent most of your time.
Alternatively, Mix can save your presentation as an MP4 video. The interactivity has to go, of course, but at least it'll be viewable everywhere and on any device.
As you'd expect with a preview edition, there may be one or two technical issues, and we saw a few unexpected PowerPoint 2013 errors during our first tests.
On balance, though, Office Mix worked very well. There's something here for everyone – even if it's just the ability to save your presentation as a video -- and if you're currently using PowerPoint 2013 or 365, then we'd give it a try.