Yahoo debuts Movies, a digital magazine for cinema enthusiasts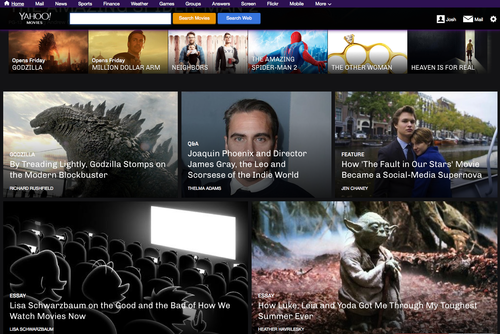 Regardless if you are interested in the latest Marvel superhero movie, the scary new horror flick or an indie film that was raved about at Sundance, you'll want current news on the films. Now Yahoo, which has been in overhaul mode of late, is stepping up to try and provide that information to the cinema crowd.
Today the search company unveils its Yahoo Movies. Unlike the Netflix competitor that name may imply, this is a digital magazine aimed at bringing news to the enthusiasts. "Whether you're heading out to the theater or looking for something to stream at home, our writers will guide you to the must-see films, both new releases and lost classics", says Yahoo's Josh Wolk.
The magazine plans features articles from movie critics, interviews with actors and actresses, sneak previews of the next potential blockbuster and even live stream events from big premiers.
"If you like movies with giant explosions, intimate love stories, superheroes, subtitles, banter, bawling, or all of the above—we've got your ticket. And there's more to come. So grab a popcorn bucket (treat yourself to the extra large with butter; you deserve it!), lean back, and enjoy the new Yahoo Movies", Wolk concludes.
To get in on this endeavor from Yahoo, you can head to the new Movies page and check it out. It is free to browse stories, listings and all of the other information that is contained there.