Spencer brings an XP-style Start menu to Windows 8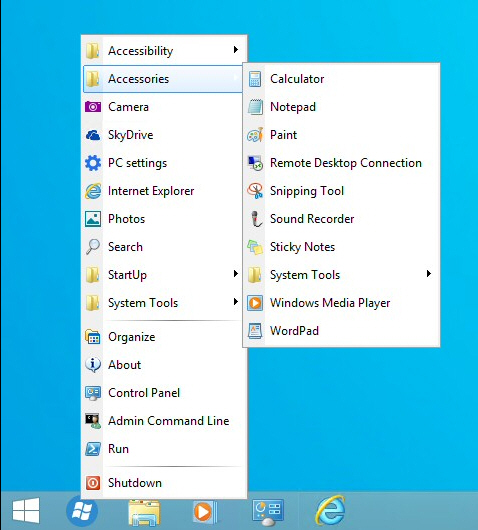 If you're still missing the Start Menu in Windows 8 -- or even the more desktop-friendly 8.1 -- then there are plenty of ways to bring it back (Classic Shell is probably our favorite).
It's not immediately obvious why we need yet another Start Menu alternative, then. But Spencer (yes, that really is its name) does have one or two differences which help it stand out from the crowd.
The program is extremely lightweight, for instance, at a mere 430KB download. It's also portable, so there are no adware concerns here.
Spencer isn't a Start menu replacement, either. It won't replace your existing Start button, or interfere with the Windows button. Instead you just pin it to your taskbar (right-click, "Pin to taskbar") and click the shortcut whenever you need to use it.
Being launched from a shortcut means you're automatically able to give the menu a custom hotkey. Right-click the pinned shortcut, right-click Spencer, select Properties, click in the Shortcut box and press Ctrl+Alt+S (for example). You can then launch the menu with that hotkey as required.
The menu appears in the XP style: a single vertical list of your programs. Below that you'll find entries to organise your files and folders, open Control Panel, launch a Command Line with admin rights, or open the Run box.
The key here is what you think of the XP menu style. We're not fans, because its single vertical list makes poor use of screen space, especially when you've lots of applications installed. You can spend a lot of time scrolling to find what you need, all via the keyboard (the mouse scroll wheel doesn't work) and there's not even a search box to help out.
Still, if you like the XP style -- and you don't have too many programs installed -- then Spencer provides a quick and easy way to bring it back. We would still pick Classic Shell for its configurability, but if you need something very simple which won't conflict with other Start menus or buttons then Spencer might be enough.