Zoom North America announces the H5 Handy Recorder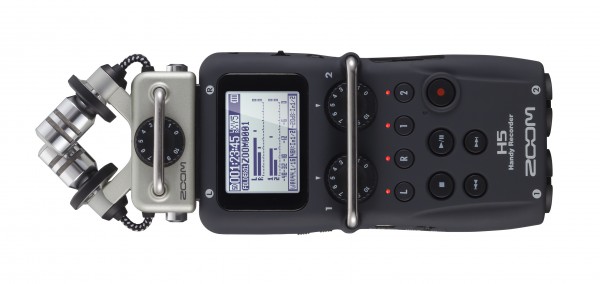 Whether conducting an interview, enjoying the music of a live band or listening to a college lecture, having a recorder handy is a huge plus. Sure, you can try and transcribe on the fly, but that is not ideal. For one, it causes the user to not pay attention. In other words, rather than sitting back and taking it all in, the person must furiously write -- an exercise in frustration. Also, a journalist may want a recorded copy of an interview, so that the interviewee cannot deny quotes later.
Finding the right hardware for recording audio can be tricky. Sure, you can use your smartphone or buy a chintzy recorder and maybe it will meet your needs. However, if the quality of the audio is important to you, it makes sense to invest in a high-quality device. Today, such a device has been announced by Zoom North America, called the H5.
"The H5 allows four tracks of simultaneous recording directly to SD cards up to 32 gigabytes in a variety of MP3 and BWF-compliant WAV file formats, including 24-bit / 96k high-resolution audio. With the use of an optional adapter, it can be mounted directly to a DSLR or camcorder and requires just 2 AA batteries for power, with alkaline battery life of more than 15 hours. Dual XLR/TRS combo jacks enable the connection of external microphones or line-level devices. Each input has its own dedicated gain control and pad, as well as phantom power in three different voltages", says Zoom North America.
The company further explains, "additional features include a stereo Line Out for connection to camcorders; a headphone jack and built-in speaker; onboard effects, metronome and chromatic tuner; adjustable playback speed and pitch correction; and Pre-record, Auto-record and Backup-record functions. A USB port enables data transfer to and from editing software and allows the H5 to serve as a multichannel audio interface for computers and iPads".
With all of these great features, the H5 is surprisingly affordable at $269.99 and infinitely useful with the interchangeable microphone heads. If you average the cost over a 4-year college degree, it is a steal. This would be an amazing back-to-school gift or a great tool for a budding journalist.
The H5 Handy Recorder will be available in June at Amazon, B&H Photo and Video, Best Buy and Sweetwater. Are you interested? Tell me in the comments.