VOXOA HD Wireless Stereo Headphones [Review]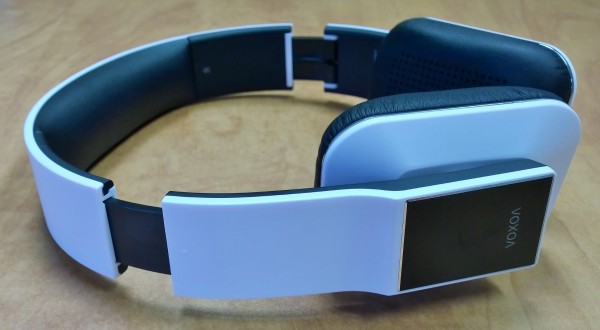 Having been born in the 80s, I've seen a lot changes in technology. Believe it or not, our first VCR was a hand-me-down with a wired remote -- yes, wired. We also did not have a cordless phone for quite a while. Instead, we had a phone with a 50-foot cord. My first Walkman, a non-Sony portable cassette player (they were all called "Walkman" back then), had crappy corded headphones. Are you seeing a trend yet? Cords, cables and wires were a necessary evil.
Luckily, nowadays we have wireless everything. The coolest technology for me is Bluetooth headphones. The fact that I do not need to strategically run a cable down my shirt or jacket is a godsend. Unfortunately, the quality of Bluetooth devices vary wildly. It is easy to buy a wireless set of cans that sound terrible. So, are the VOXOA HD Wireless Stereo Headphones terrible or great?
Specs
Sound pressure level -- 108 dB
Impedance -- 64 Ohms
Frequency response -- 10Hz-20KHz
Bluetooth 4.0
Embedded NFC technology
AAC codec support
Built-in aptX for CD quality audio streaming
HD voice & Hands free
Echo cancellation
Battery capacity -- 430 mAH
Music play time -- 16 Hours
Charging time -- 3 Hours
Pros
Upon removing the headphones from the box, I was immediately pleased with the appearance. The headband is very thin, which lends to an overall classy appearance. In other words, they won't overpower your skull like the over-sized Beats by Dre. They feel very comfortable on my head too (I have a huge head).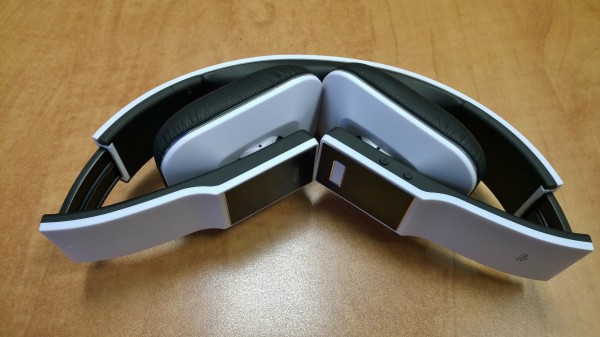 While the build is svelte, it is not weak, nor rigid. The headphones can be twisted and turned with great force without a break. This is great to know as I am confident that they should survive a ride in my backpack. The last thing you want is for your headphones to break on a trip. Of course, they can also be folded for a minimal footprint.
The killer feature that had me intrigued is NFC. I am happy to say that it works as advertised. On my HTC One M8, Bluetooth and NFC was already enabled. So, all I needed to do was put the Voxoa headphones into pairing mode and touch it against the back of the smartphone. Like magic, Android asked if I would like to pair. I selected yes and was off to the races.
With the headphones connected, I played an eclectic mix of music including the Bloodhound Gang, Jazz Spastiks and Weezer to name a few. The sound quality is impressive for all genres that I threw at it. Even though I am a big Hip-Hop fan, I do not want to be overpowered by bass. I am happy to say that the bass is well-balanced.
The buttons are well laid-out and all on the right earpiece. From there, you can skip tracks forward and back, pause and play or turn volume up and down. It is very intuitive and fun to use.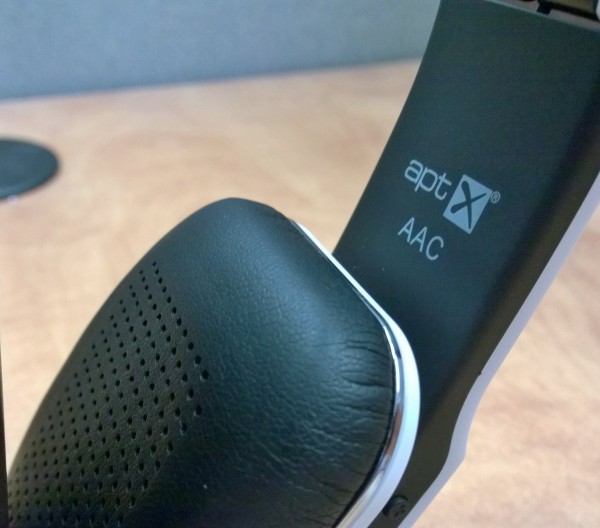 These headphones also support aptX for improved quality. When paired with my Macintosh (Hackintosh), I confirmed that aptX was enabled and working in OS X.
But don't worry, if your source does not support Bluetooth, you can connect through the analog 3.5mm AUX input. Yes, these wireless headphones can double as wired.
Cons
While sound and build quality are great, there are a couple of negatives. First off, these cans do have a built in microphone to double as a headset. In other words, you should be able to use them for making audio calls. Unfortunately, the quality of the mic is too poor for regular use -- people could not always hear me. In a pinch, it is a nice feature to have, but if it is important to you, it is a definite deal breaker.
The other negative is battery life. In my case, I seem to get about 7-10 hours of use before needing to charge. While this is perfectly acceptable to me, the company advertises 16 hours. I have not been able to achieve this rating. Still, 7-10 hours is long enough for me.
Conclusion
These headphones are very comfortable and offer superb audio quality. Build quality is top-notch as they seem very durable -- they should last. While the battery life is less than advertised, it is perfectly acceptable. The only deal-breaker is the terrible microphone quality. If you are only looking to listen to music, these are a home-run and I recommend them. However, if you need these for voice calls, you should avoid.
The VOXOA HD Wireless Stereo Headphones are available in black and white on Amazon.com for $99.95. However, as of today the white variant is $10 cheaper, at $89.95