Apple announces iOS 8 -- interactive notifications, HealthKit, Family Sharing, and more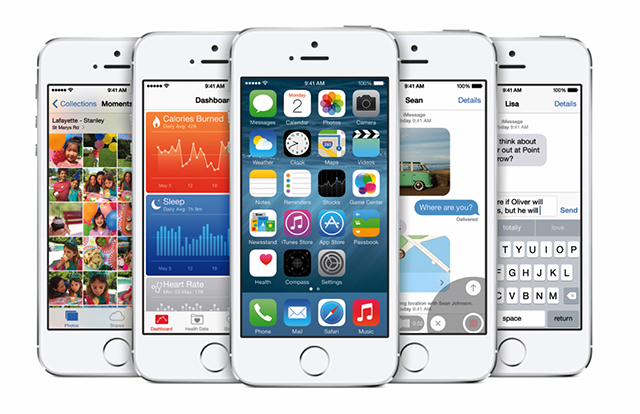 On stage at Apple WWDC, CEO Tim Cook has just announced the latest iteration of its mobile operating system. He began, as you'd expect, with some impressive statistics. 800 million iOS devices have been sold to date, a figure made up of 100 million iPod touches, 200 million iPads and 500 million iPhones. He also noted 130 million customers were new to Apple in the last year, and many were switchers from Android.
To the surprise of no one, iOS 8 builds on the design of iOS 7. Following Cook on stage, Senior Vice President of Software Engineering, Craig Federighi walked through the improvements and new features and apps. These are some of the highlights:
The notification center has been refined. You can now respond directly to notifications, including on the lock screen. So in other words, you'll be able to reply to a message without having to unlock the device first. Double-tapping gives you access to your most recent contacts.
The mail client has been updated, so you can flag messages and mark emails as unread really easily. You can now also hide the compose window part way through writing an email, allowing you to dip into other messages in your inbox.
Spotlight has been beefed up, with a new Suggestions feature that will allow you to search for apps, news, restaurants, movies, songs in the iTunes store and more.
The keyboard has been enhanced, with the introduction of context sensitive predictive text. It learns how you talk to different people, and adjusts the style accordingly.
The new Continuity feature (also found in OS X 10.10 Yosemite) lets you pick up where you left off on your other Apple devices.
You can add text snippets, images and video clips to chats with a swipe in the all new Messages app, and these can self-destruct, saving space.
iCloud Drive makes it possible to share files across apps.
HealthKit provides a single place for all your fitness apps, including Apple's own new Health app, and third party choices, and can capture and track information like weight, heart rate, calories burned, and sleep.
Family Sharing lets your iOS owning family members share details across devices, and you can use it to find your children's missing iPhone/iPad. Apps purchased by one member of the family are available to all. Up to six family members can share the same credit card, but you don't have to worry about it getting maxed out, as the card owner will be prompted before other family members can make a purchase.
Photos with iCloud means every photo you take on one device, will be available on all your devices. Useful for people like me with an iPhone and an iPad. You can search for images by location, date, time, name, albums and so on. There are smart controls for editing photos now too.
You can call up iOS's voice assistant simply by saying "Hey Siri", Shazam song recognition is baked in, and you can purchase iTunes content directly through Siri too.
An Explore tab in the App Store makes it easy to find the apps you're interested in; you can view trending apps, and developers can now offer app bundles at a discounted price. App previews let you watch short videos of the app at work so you can decide if it's something you're interested in before buying.
iOS 8 will be available in beta to developers today, and for the rest of us in the Fall. It will run on iPhone 4s and above, iPod touch 5th gen, and iPad 2 and above, including iPad mini.
It's obviously not the most exciting iteration of iOS, but it was never going to be. iOS 7 was revolutionary, and this is simply evolutionary. Even so, there are some welcome tweaks. What do you think of the next version of Apple's mobile OS?