Strip metadata from your photos with JPEG & PNG Stripper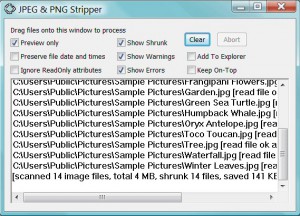 Digital photos often include metadata, hidden tags which hold more information about them: camera name, model, date taken, maybe the place (if the camera was GPS-enabled), the flash mode, ISO speed, image thumbnail and more. Add others – title, author, comments -- and these can be a great help when organizing and searching for photos later.
These tags also increase your image size, of course (if only by a few bytes), and can include personal information. If you're thinking of sharing any photos with others then it could make sense to remove them with JPEG & PNG Stripper, first.
The program is portable, a tiny 86.1KB, and built for ease of use. At a minimum, all you have to is launch it, drag and drop your images onto the JPEG & PNG Stripper, and any metadata will immediately be removed. A report explains how much space you've saved (if any).
While we're all for simplicity, this approach does mean you can't view any tags your images contain, or choose what to delete. It's all, or nothing.
There isn't an option to save the processed files as copies, either: JPEG & PNG Stripper always overwrites the originals. We wouldn't anticipate this causing major problems -- the program isn't doing anything complicated, and so shouldn't corrupt your pictures -- but if it makes you nervous then be sure to work with copies, at least initially.
The program has an "Add to Explorer" checkbox, which we expected to add an option to our right-click menu for JPEGs and PNGs. That would have been a good idea, if it had worked… Unfortunately, there was no obvious change to our system at all.
Fortunately JPEG & PNG Stripper's command line interface is much more successful. Point the program at a folder and you can have it process any images it contains in just a few seconds.
On balance this is still a little basic, and there are plenty of more capable metadata management tools around. BatchPurifier LITE, for example, supports plenty of JPEG metadata types, displays them all, allows you to decide what you'll strip out, and exports the results to your folder of choice.
If you're more interested in convenience than the fine details, though, JPEG & PNG Stripper looks much better. It's compact, portable, and does everything you need with a quick drag and drop. Give it a try.