HTC One (E8): The flagship without metal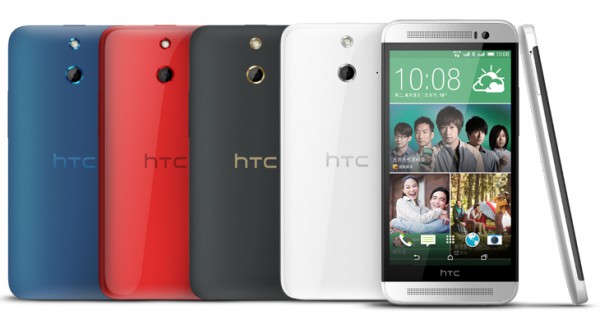 HTC has been praised numerous times for making its two most-recent flagships, the One and One (M8), out of metal. That is because this material gives such smartphones a premium look and feel that is actually worthy of the asking price. And, in the Android world, it sets the company's flagships apart from the myriad plastic-clad competitors. Metal is undeniably good. Except when it is not.
The use of metal adds to the cost of HTC's smartphones, which makes them less attainable for many, if not most, consumers. So, to give them a chance to experience the One (M8), albeit on a budget, HTC has taken out the metal and replaced it with plastic. Meet the new One (E8).
The One (E8) is not a copycat clone of the mighty One (M8), but it looks similar-enough to the latter. On the back, the dual camera setup from the One (M8) is gone, but, in order to preserve its layout, it is now replaced by a back-facing camera with an LED flash on the top. The One (E8) also does away with any interruptions on the plastic back -- which are used for wireless signal on HTC's metal-clad flagships -- but the front-facing speaker grille layout is preserved.
"The HTC One (M8) sets a new smartphone standard and now we're taking it in another exciting direction", says HTC CEO Peter Chou. "Combining style and substance, the HTC One (E8) represents the incredible experience people expect from an HTC One device with a look and feel that's unlike anything else out there today. If you're looking for the best flagship smartphone experience, but want to stand out from the crowd, this is the phone for you".
In the official blog post, HTC does not provide a complete specifications sheet. Instead, the company limits such information to the size of the display (5-inches), internal storage capacity (16 GB) resolution of the back-facing and front-facing cameras (13 MP and 5 MP, respectively -- the former is higher than the One (M8) counterpart), the size of the internal battery (2,600 mAh), the availability of a microSD card slot and a dual-SIM version, the color palette (Electric Crimson, Maldives Blue, Misty Gray and Polar White), and other features like BoomSound and Motion Launch.
HTC says the One (E8) will be available starting in early-June, in "select regions only". Optional Dot View cases will also be offered. There is no pricing information yet, but expect the One (E8) to be significantly cheaper -- obviously -- than the One (M8).