The iOS 8 features Apple didn't mention at WWDC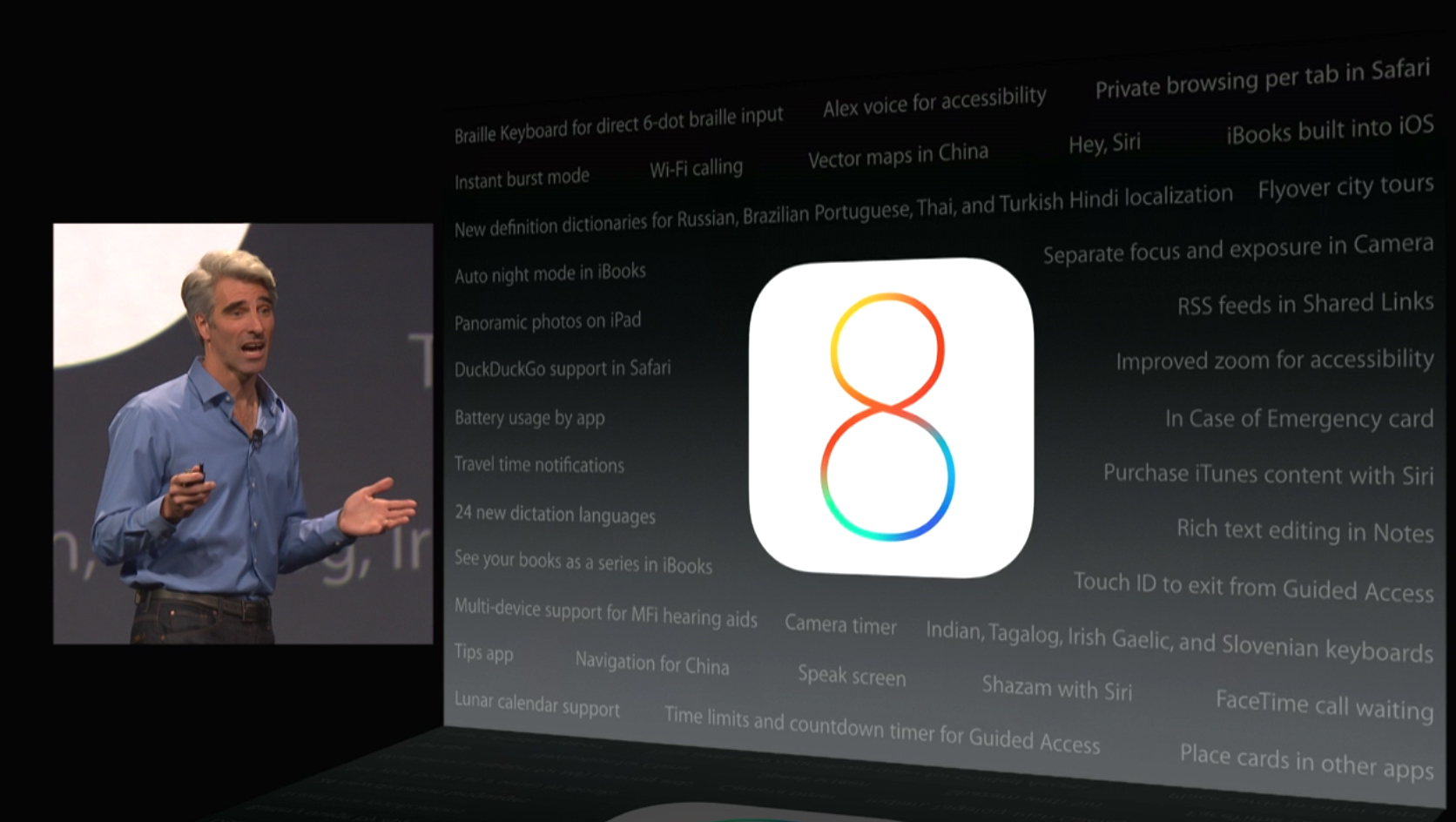 Tim Cook took to the stage at Apple's Worldwide Developer Conference yesterday, to announce iOS 8, the next iteration of the company's mobile operating system. As expected, the forthcoming release builds on the foundations laid down by its predecessor, refining elements and introducing some new features.
Craig Federighi, SVP of Software Engineering, ran through a lot of the changes yesterday, including interactive notifications, HealthKit, Family Sharing, Spotlight Suggestions, iCloud Drive, Continuity, Photos with iCloud, and context sensitive predictive text. But there were loads of features that Federighi didn't mention.
These appeared on a slide in the background (some, like 'Hey, Siri' were touched upon, but I've included them here anyway):
Braille Keyboard for direct 6-dot braille input
Alex voice for accessibility
Private browsing per tab in Safari
Instant burst mode
Wi-Fi calling
Vector maps in China
Hey, Siri
iBooks built into iOS
New definition dictionaries for Russian, Brazilian Portuguese, Thai, and Turkish Hindi localization
Flyover city tours
Auto night mode in iBooks
Separate focus and exposure in Camera
Panoramic photos on iPad
RSS feeds in Shared Links
DuckDuckGo support in Safari
Improved zoom for accessibility
Battery usage by app
In Case of Emergency card
Travel time notifications
Purchase iTunes content with Siri
24 new dictation languages
Rich text editing in Notes
See your books as a series in iBooks
Touch ID to exit from Guided Access
Multi-device support for MFi hearing aids
Camera timer
Indian, Tagalog, Irish Gaelic, and Slovenian keyboards
Tips app
Navigation for China
Speak screen
Shazam with Siri
FaceTime call waiting
Lunar calendar support
Time limits and countdown timer for Guided Access
Place cards in other apps
Some are self-explanatory, others are easy enough to guess at. There are probably more new features too that weren't deemed worthy of inclusion, and it's likely Apple may introduce further functions and options prior to iOS 8's official release.
I'm disappointed (but not surprised) that certain features, like NFC support and the rumored split-screen multitasking, didn't make it into iOS 8, but there's certainly a lot of tweaks and new features to explore when the operating system arrives in the fall.