The ROCCAT Tyon gaming mouse -- 16 buttons, including a dorsal fin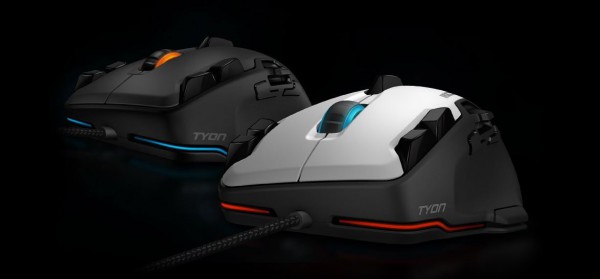 The evolution of the computer mouse is well documented. When the first mouse was invented, I am sure no one at the time expected to predict the insane future that gaming mice would create. For the most part, people can get by with a 2 button mouse -- hell, Apple stuck with the single-button mouse for quite a while, punishing its users for some ungodly reason. But I digress, extra buttons such as back/forward and scroll wheels are appreciated extras that many cannot live without.
Gaming mice however, take things to a different level; the craziest I've ever seen being the Logitech G600 MMO mouse that features 20 programmable buttons. Today, ROCCAT unveils a new mouse with 16 programmable buttons, spread out across the pointing device. While that does not best the previously mentioned G600, it does have something extremely odd -- a dorsal fin. Yes, much like a dolphin, this mouse has a dorsal fin. Please let that sink in for a minute.
"Tyon is an efficient, combat-ready weapon and an aesthetically fascinating masterpiece in one.  It provides the simplest access to the most features in a gaming mouse, reduces the need to make hand adjustments on the keyboard with the ROCCAT X-Celerator and Dorsal Fin, and is exceptionally comfortable with exhaustively tested button placement schemes", says ROCCAT.
The manufacturer further explains these unique features, "X-Celerator and Dorsal Fin technology eliminates the frustration of being shackled to the myriad of keyboard commands by shifting major functions from the keyboard to the Tyon.  The X-Celerator is a two-way analog stick that allows gamers to throttle, sprint, rotate tank turrets, and more directly from their mice. Dorsal Fin is a two-click button placed behind the mouse wheel that provides comfortable mid-finger gaming action and increases mouse functionality".
The company touts the following features:
8200 dpi pro aim (r3) laser sensor
X-celerator thumb paddle
Dorsal fin switch
Roccat easy-shift on-the-fly button duplicator
16.8m multicolor illumination customizable two-level light system
Tracking & distance control unit
16 mouse buttons
32-bit processor + 576kb memory
So, do gamers really need a mouse with a dorsal fin? Need? No. Want? Maybe, depending on how it works in actual practice. When it comes to mice, even gaming mice, I still want comfort and sensibility when not gaming. I am fearful that the dorsal fin button could be an annoyance in day-to-day use. Of course, I am basing this solely on images -- my fears may be for naught if I hold it in my hand.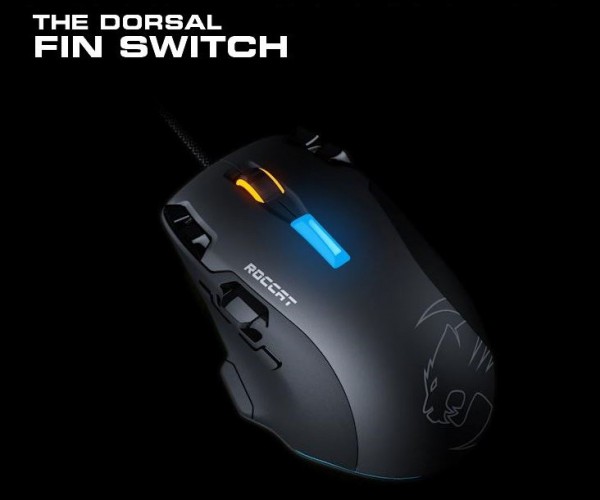 Other than the dorsal fin button, there are other cool features too. The body is sweat proof, so if you are in a heated death match, it should hopefully keep your palm dry. You can even change the accent lighting on the pointing device too.
If you want a mouse that shares something in common with Flipper, this may be the one for you. In all seriousness though, if you watch the below video, the Tyon looks incredible. The suggested price is listed as  €99.99 EUR which equates to about $135 USD. However, it is very likely that the USD price will be $99.99.
What do you think of the Tyon mouse? Tell me in the comments.