Microsoft Remote Desktop for Windows Phone 8.1 receives first major update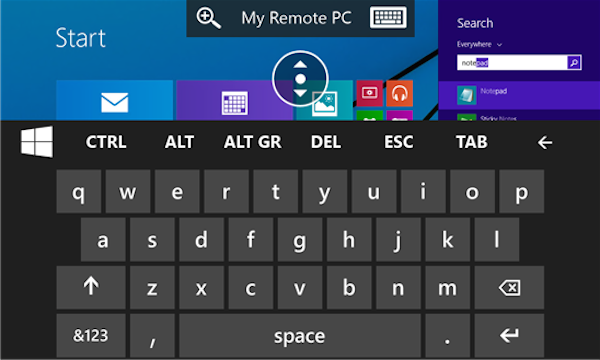 In late-April, Microsoft introduced the much-awaited Remote Desktop app on Windows Phone 8.1, giving a small subset of its Windows Phone users, who wish to beta-test the offering, the ability to connect remotely, from their smartphones, to Windows PCs.
The app launched with a powerful feature set, but it just received its first update which makes the experience even better. Microsoft details the first round of improvements in an MSDN blog post. The new iteration brings Remote Desktop even closer to its counterparts on Android, iOS, OS X and Windows 8.1, in terms of functionality, according to the software giant.
To make it easier for users to connect to often-accessed Windows PCs, Remote Desktop now gives folks the option to pin such devices as live tiles on the Windows Phone 8.1 homescreen. Tapping on one initiates a connection to that Windows PC.
Microsoft also introduced swipe support in the Remote Desktop keyboard, with predictive text input. This feature was first launched in Windows Phone 8.1 this April. The app's extended keyboard -- which makes way for "useful keys for interacting with a Windows session" -- can be shown and hidden at the tap of a button.
Remote Desktop also adds the option to disable thumbnails for Windows PCs listed in Connection Center. The feature, when enabled, deletes the thumbnails from the Windows Phone 8.1 handset. Microsoft says this works as a way to increase privacy or have a more compact list of Windows PCs.
To take advantage of what Windows Phone 8.1 has to offer, the Remote Desktop live tile now features transparency support, which allows it to play nicely with custom homescreen backgrounds.
Microsoft says Remote Desktop also comes with improvements relating to touch and mouse pointer input, like panning the screen while performing touch operations, and horizontal scrolling with Windows 8.1 PCs.
And, Microsoft also "updated the connection and disconnection experiences to provide a better and more familiar experience to long time users of Remote Desktop Connection". That means more connection details, and faster notifications, for network issues, coupled with the ability to fix such problems before initiating a connection.
Microsoft says that it is working to bring VPN and Azure RemoteApp support "this summer", as well as "more enterprise-focused features including Remote Desktop Gateway, RD Connection Broker, and Remote Resources (RemoteApp and Desktop Connections)", but the latter will only arrive later this year.
Microsoft Remote Desktop is available to download from Windows Phone Store.