LG G3 -- your heart's desire is here [Review]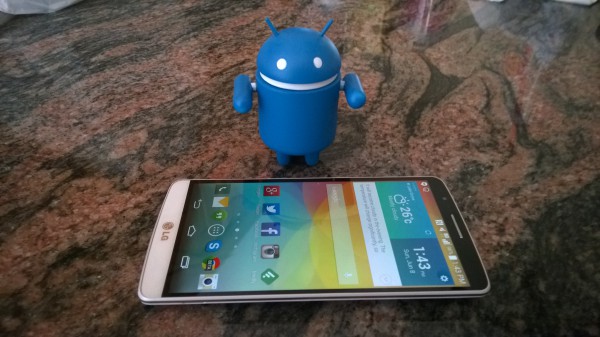 Android smartphones are a dime a dozen nowadays. If a manufacturer wants to stand out among the sea of rectangular Google-powered devices, it has to bring it. But, what exactly is "it"? Is it specs? Is it the experience? What exactly do consumers want? I'm not sure that is crystal clear anymore. When buying a smartphone, consumers are forced to choose between an iPhone or Android (sorry, Windows Phone). If you want an iPhone, there isn't much choice, it is an easy decision. If you want Android, well, you'd better do your homework. Do you want pure Android or a tweaked UI? What screen size do you want? How much do you want to pay?
Cost is a huge factor now, as devices like the Motorola G push the boundaries of what a low-cost smartphone can be. For a consumer to spend a huge amount out of pocket or sign their life away with a long contract, the phone needs to be exceptional. There must be real reasons as to why they should buy it over a low-cost no-contract variant. When the LG G3 was announced, I was immediately impressed with how the company focused beyond the incredible specs to the overall user experience. But, would the G3 prove to be wonderful in practice? Luckily, I've been using the phone and I can now answer that question.
Specs
Chipset: Qualcomm Snapdragon 801 (up to 2.5GHz Quad-Core) Ÿ
Display: 5.5-inch Quad HD IPS (2560 x 1440, 538ppi) Ÿ
Memory: 32GB eMMC ROM / 3GB DDR3 RAM / microSD slot (128GB max)
Camera: Rear 13.0MP with OIS+ and Laser Auto Focus / Front 2.1MP Ÿ
Battery: 3,000mAh (removable) Ÿ
Operating System: Android 4.4.2 KitKat
ŸSize: 146.3 x 74.6 x 8.9mm Ÿ
Weight: 149g
Network: 4G / LTE / HSPA+ 21 Mbps (3G) Ÿ
Connectivity: Wi-Fi 802.11 a/b/g/n/ac, Bluetooth Smart Ready (Apt-X), NFC, SlimPort, A-GPS/Glonass, USB 2.0
ŸColor: Metallic Black, Silk White, Shine Gold, Moon Violet, Burgundy Red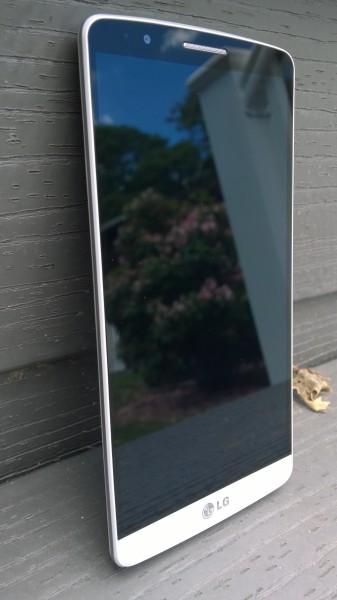 * Please note, the phone which I am reviewing is a South Korea version, for the SK Telecom carrier. However, the phone is unlocked and LTE works flawlessly with AT&T. The entire UI is in English, save for a few pre-installed Korean apps.
The major hardware difference is the inclusion of a pull-out TV antenna, which is designed for Korean over the air digital broadcasting.
Impressions
When you first see the LG G3, it is a bit intimidating. Unless you are an existing phablet user, a 5.5 inch screen is monstrous. However, LG has done a great job of minimizing bezels, so that it doesn't feel too big in the hand or pocket.
Even if you are turned-off by a large screen, turning on that giant screen and seeing the display in use will quickly change your mind -- it is awe-inspiring. The Quad HD 2560 x 1440 display produces 538 pixels per inch. In other words, you will not be seeing any pixels. The screen comes alive with such vividness, that it will be impossible to go back; this is the new normal and I love it.
The build quality is good, but it is all plastic. While this is not a bad thing, it is in stark contrast to the beautifully designed, metal HTC One M8. Plastic is totally acceptable however, as it is very durable. Unfortunately, with the LG G3 the plastic is also extremely slippery. If you buy this phone, you must also purchase a case. If not, there is a very high chance it will slip from your hands and meet certain doom -- you have been warned.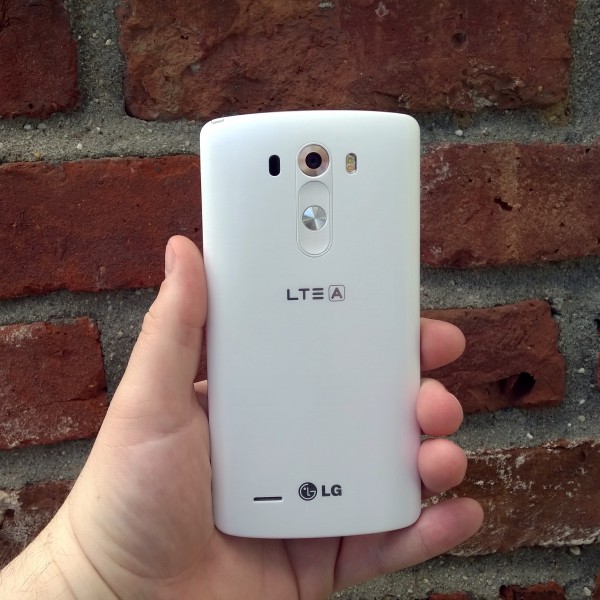 The plastic body allows for a key feature -- wireless charging. Unfortunately, a metal body like the one found on the HTC One M8 prevents this technology. Wireless charging is great as it allows you to charge the phone by just placing it on a compatible charging plate. Is it necessary? No, but I love it and I think you will too; try it before writing it off as a gimmick.
The LG G3 has two features that many Android users will be excited about -- a removable battery and a microSD slot. Many manufacturers are leaving these things out -- even Google's Nexus line no longer has them. The expandable memory in particular is important, since the camera records 13MP images and 4K video. While the 32GB onboard storage seems like a lot, you will burn through it quickly if you are a shutterbug. I recently spotted a 128GB microSD card on sale for $99, so it can be very affordable to do so.
A removable battery is great, but less necessary with the invention of portable battery-packs. It usually doesn't make sense to invest in an extra battery that will only work with that model phone as opposed to a microUSB variant that will work with almost any. Still, it's nice to have. With that said, the battery life on the G3 is insane -- it is like the Energizer Bunny, it keeps on going. The only modern smartphone to outperform it in my testing is the Motorola Droid Maxx.
Carrying over from the LG G2, are the rear buttons -- power, volume up and volume down. These are a hate it or love it thing, and I can understand people being hesitant to embrace it. However, in actual practice it works very well and gives the phone a clean look. On the G3, the buttons have been improved immensely, so there are no more accidental presses. On the G2, I would constantly turn off the device when trying to turn the volume up or down. Now, this no longer happens.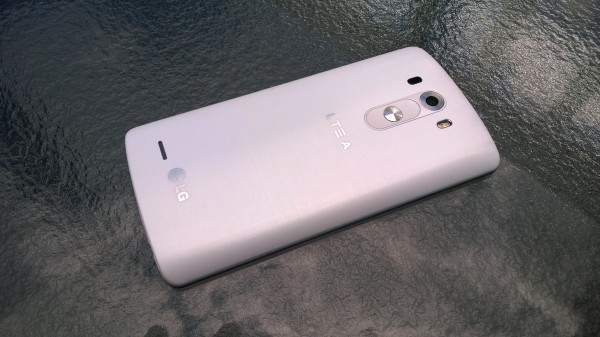 Speaking of volume, the speaker is loud and clear, but it is no match for the reigning sound-champion, the HTC One M8. Music, movies and games are clear, but the speaker placement is poor. You see, while holding the phone, I have on many occasions covered the speaker with my finger. It is extremely annoying to have the music muted every time my finger strays to that place. If manufacturers cannot move the speakers to the face like the M8, I would rather it be on the bottom, like the iPhone.
Sample Photos
While HTC's M8 is superior in audio, the LG G3 trumps it in the camera department, handily. Sure, image quality is subjective, but I was quite impressed by the photos I achieved. As you can see from the 6 photos above, colors are vibrant and clean. These photos are untouched, only resized to a more reasonable file size.
The G3's camera has a unique trick up it's sleeve too -- a friggin' laser. Yes, the camera utilizes a laser for faster focusing. If you hate missing important shots while your camera focuses, please know the G3 alleviates this. It takes pictures faster than a paparazzo at Justin Bieber's house. The dual flash helps to capture beautiful photos in low-light settings too.
Video is a different story, sadly. As a test, I shot my Koi pond in 4K. While the video is passable, it is a bit grainy. Colors are very well represented, but with a lot of movement, quality takes a dive. Make no mistake, it is by no means bad, just not great. The saving grace however, is the audio recording quality. For a smartphone, it is the best I've ever tested in this regard. When shooting video, it is so impressive to hear the subtle things that the mic picks up, like a bird chirping or airplane in the distance.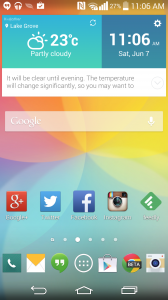 The phone is shipping with Android 4.4.2, but sadly, Google recently made 4.4.3 available. This means that the top of the line LG G3 will have an outdated OS at launch. Some people have said an upgrade to 4.4.3 is no big deal, because it's only bug fixes. In other words, because there are no notable added features, it isn't worth wanting. Well, I must disagree here -- the bug fix releases are more important than features from a security standpoint. True, it is not the end of the world, and it is not LG's fault, it is the sad state of Android fragmentation.
Luckily, LG more than makes up for any minor version concerns, with beautiful customizations and optimizations to the operating system. The icons are wonderfully flat and performance is fast and fluid. Never have I experienced any lag or hiccup when navigating screens or settings.
The user interface is fairly close to stock, but where it deviates is superior. For instance, uninstalling apps can be done from the drawer by selecting "Edit/uninstall apps". From here, you just click on the "x" for each app that you desire to delete. Even the pull-down menu is enhanced with beautiful large and flat icons, which improves the overall feel. None of LG's tweaks get in the way, like Samsung's overly-suffocating Touchwiz can.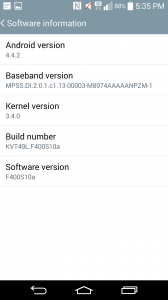 The keyboard is marvelous and is superior to the stock variant. Strangely, the Swype-like drawing on the keyboard is disabled by default. The user must go in and select it. It is not clear why they would want to bury such a useful method of text input. The cooler feature though, is the ability to customize the height of the on-screen keyboard. In the settings, you can drag it to your desired height, save it and forget it -- awesome.
LG has taken a proactive stance to security as well. Many people do not secure their smartphones, because unlocking it is a hassle. I understand that a lock-screen can hinder the experience, so it is important to find a way to minimize the impact so that users will actually want to lock it. The manufacturer lets G3 users unlock the device by simply tapping on the screem in a certain pattern with the display off. This means that there is one less step involved in unlocking and the process itself is kind of fun. Of course, you can still choose to unlock with pins or passwords if you choose.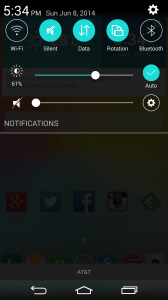 If you lose your phone entirely, there is no need to worry. The device has a kill switch, which when enabled, renders it useless -- forever. Yes, it becomes a brick. This is indented to be a deterrent for criminals. You see, the thought is, criminals won't bother stealing an LG G3, since the risk will not be worth it, for a phone that will soon be inoperable. While it is controversial, I like it and hope that all phones come with it in the future as long as only the owner has the right to "kill" it.
The manufacturer also includes it's LG Health software, which is pretty darn cool. I have been known to get caught up in a bag of Doritos every once in a while and I definitely need to lose some weight. The G3 has been helping me recently in tracking my overall health. On day one, I input my height, weight, etc. and it told me I was obese -- gee, thanks! Since then, it tracks my steps and distance while walking and even shows calories burned. Accumulating steps is very addictive and I have been walking more in an attempt to see how many steps I can earn each day. Yes, the LG G3 is helping me stay healthy, it is not just a gimmick.
Multitasking is optimized for the large screen by utilizing an optional split screen. Users of the popular Galaxy Note phablets should be familiar with the concept -- some apps can be run side by side. This makes it possible to write an email while watching a video or text message your best friend while checking Facebook. It works very well and is easily activated by tapping on the running-apps button and selecting "Dual Window".
Fans of Android hacking and tweaking will be happy to know that I have already achieved root on the LG G3 with the help of an XDA guide. While it is not guaranteed to work on USA versions, it very well may. Even more impressive, it was a one-click method, meaning I only had to run a Windows .bat file and press enter a few times in the command line.
Conclusion
So, back to my original question, is the LG G3 wonderful? Absolutely. The phone builds upon the successes of last year's LG G2 and makes everything better. The specs of the flagship phone are increased to new levels. This phone can accomplish everything that the typical Android enthusiast can want -- it has a top notch camera (with laser), 4K video recording, Quad HD screen, removable battery, wireless charging, expandable storage -- all tightly built into a gorgeous package.
If you buy this phone, you will be hard-pressed to find any faults. Like I said, the only negatives I really found were very minor -- slightly grainy video and a slippery body. Hardly deal-breakers, I must say.
If you want a top of the line Android device, there is no need to look beyond the LG G3 -- you will love it. Highly recommended.