Storage galore -- Motorola introduces 64 GB Moto X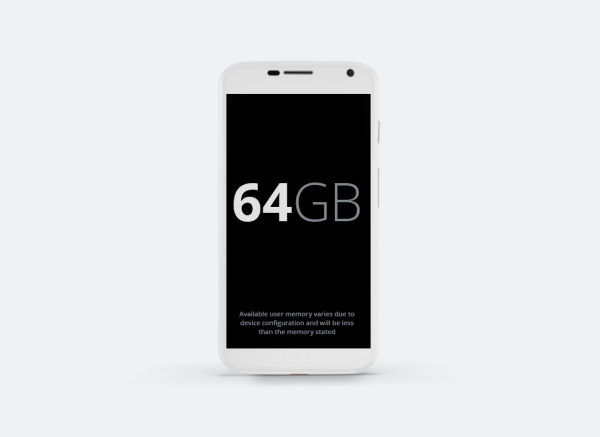 With lots of apps and games coming in respectable sizes, those who are looking to buy a new smartphone have to pay close attention to the amount of available out-of-the-box storage, as otherwise they quickly risk running out of space. A microSD card can do the trick, but a slot is not offered on all smartphones. So what can you do?
Motorola believes that the best approach in the case of the Moto X is to increase the amount of internal storage. Considering the company introduced the Moto G with a microSD card slot not too long ago, this appears to be a strange call.
The ability to throw in a microSD card in order to expand the storage capacity of a smartphone is always welcome, especially when there is little room to play out-of-the-box. But, internal storage is, generally speaking, both more reliable and faster, which are two very important features for a flagship, which is what the Moto X is for Motorola, at the moment.
So, Motorola has introduced the 64 GB Moto X, which offers four times more storage than the base, 16 GB model, for only $100 more. It costs $449.99 off-contract, or $49.99 on a two-year agreement with a US mobile operator. In comparison, Apple asks twice as much for the same storage increase on its iPhone 5s (base is $649, while the 64 GB version is $849 off-contract; prices are $199 and $399, respectively, with a two-year contract).
The highlights of the 64 GB Moto X include: 4.7-inch AMOLED display with a resolution of 720 by 1280; Motorola X8 processor (based on a 1.7 GHz dual-core Qualcomm Snapdragon S4 Pro unit); 2 GB of RAM; 2,200 mAh battery; 10 MP back-facing camera and 2 MP front-facing shooter, both with 1080p video recording; 50 GB of Google Drive storage for two years; Wi-Fi 802.11 a/b/g/n/ac; Bluetooth 4.0 LE (Low Energy) + EDR (Enhanced Data Rate); 4G LTE and HSPA+ cellular connectivity and Android 4.4.3 KitKat. The Moto X comes in at 129.4 x 65.3 x 5.7 - 10.4 mm and 130 grams.
Motorola has also introduced a new program, called Try Then Buy, which allows consumers to try a Moto X -- with their own customizations -- for $0.01, for two weeks. After the time runs out, they can either keep the smartphone and pay the retail price or return it, at no cost to them. At the time of writing this article, however, all the promo codes are gone. Hit this page in case Motorola has more on tap (and, also, for more details on the offer).