Microsoft launches OWA for Android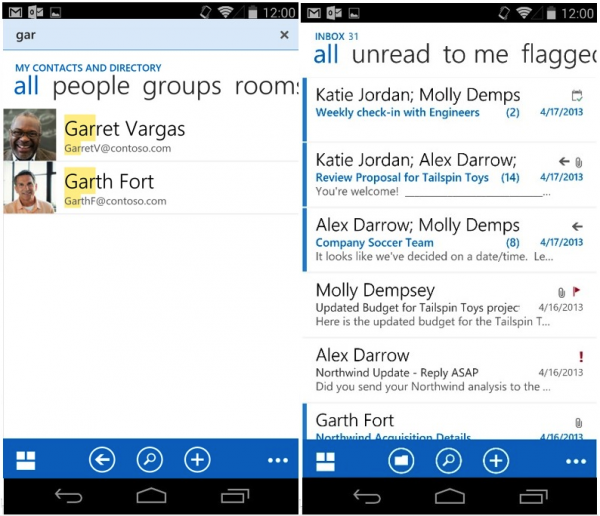 Following the release of the Outlook Web App for iPhone, Microsoft has finally introduced OWA for Android on Google Play. The app, which is currently labeled as "pre-release", is compatible solely with small handsets, and requires Office 365 for business mailboxes.
As OWA for Android undergoes testing, Microsoft says that it collects feedback, squashes bugs and ensures that the app is ready for general availability. However, even as it is, the app allows users to do "everything" that its iPhone counterpart offers, with the only difference being the ability to update contact information directly from Android.
In its current iteration, OWA for Android can do quite a few things. It offers email management (Categories, Conversation View, Flag and Mark as Junk), search in all folders, schedule support with status and room finder, shared calendars support, voice search for contacts and schedule, contact sync, PIN support, and support for remote wipe, as well as other features.
It, however, does not currently work with on-premise Exchange servers, as support is planned to be introduced in a future release. It also does not work with Office 365 Personal or Office 365 Home Premium. There are other limitations as well.
Microsoft says OWA for Android requires Android 4.4 KitKat (newer versions will also be fine) and a display size that falls within "small" and "normal" limits, as defined by the official Android Best Practices. The latter means the app will work fine on displays less than five inches (give or take, as there is no easily-defined upper limit that I can see on the site).
Microsoft says it will add support for more devices in upcoming updates, and that users can have a say on the matter by voting for which Android handset they want the app to work on. So far, the app has received terrible reviews, as users report various issues. Its average rating is two stars.
OWA for Android is available to download from Google Play.