Logitech announces the Type-S -- Samsung Galaxy Tab S 10.5 keyboard case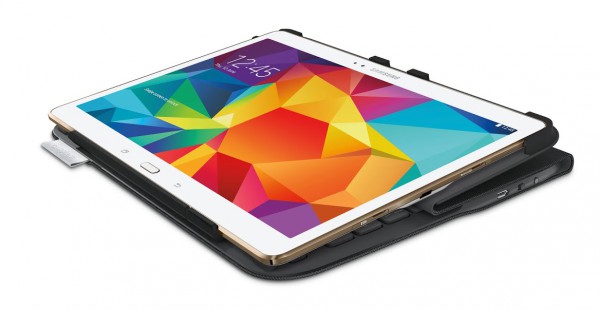 The dust is still settling from Samsung's monumental announcement of its Galaxy Tab S tablets. Make no mistake, the screens on these tablets are a game-changer and sure to push other manufacturers to improve their screen-technology too. While it is surely an iPad competitor, it will likely lag in one place -- accessories. Yes, when it comes to third-party add-ons, Apple's devices are on top.
Don't tell that to Logitech though. Even though the company makes cases and keyboards for the iPad, it supports Android too. Right on the heels of the Galaxy Tab S unveiling, Logitech announces the Type-S, which is a keyboard-case for the 10.5 inch variant.
"Precision engineered from state-of-the-art, water-repellant materials the Logitech Type-S is durable enough to help keep your tablet safe, without compromising the thinness of the Samsung Galaxy Tab S 10.5-inch. Its Essential Protection System (E.P.S.) helps protect both sides of your tablet from accidental bumps, scratches and spills. Plus, the Logitech SecureLock system's corner clips are designed to keep your tablet firmly secured in its protective case, yet easy to insert and remove", says Logitech.
The company further explains, "the Logitech Type-S features a dual-view stand for multiple activities, so you can get more done -- position your tablet upright to type e-mails and chat with your friends, or lay it flat to read your e-book and browse in comfort. And with the auto-wake and auto-sleep feature, your tablet is ready anytime you need it. It has a long-lasting battery that can last up to three months on a complete charge, and when it needs recharging simply plug it in with the included USB cable".
Basically, this keyboard case turns the tablet into a laptop-like experience. Plus, it props the tablet up for watching movies. This could be a great option for a business-person that travels often and can get by with Android. Since Google's operating system offers user-access to the file-system and quality multi-tasking, this should prove to be a more productive option than using an iPad and similar keyboard case.
The Logitech S-Type will be available later this month for a reasonable $99. Will you buy it? Tell me in the comments.