Icaros enables Explorer thumbnails for almost any video type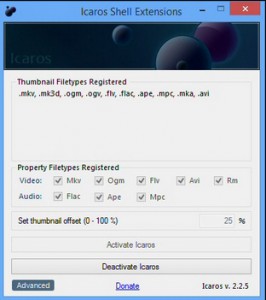 Windows Explorer does a reasonable job of displaying thumbnails for standard image types, but it's not so good with videos. You might get lucky with a few basic formats, but others -- FLV, MKV -- are usually ignored, leaving you with basic placeholder thumbnails which tell you nothing at all.
If that sounds familiar then Icaros may be able to help. It's a collection of Windows shell extensions, powered by a custom version of FFmpeg which can extract thumbnails from just about any media format every created.
Installation is straightforward. You don't have to get involved in any low-level tweaks, just click the "Activate" button when it appears, open your Videos folder and look for new thumbnails. They'll take a while to appear initially, but Explorer will cache them and you won't see this delay again.
If there are still some missing video thumbnails, launch Icaros and check the current list of "thumbnail filetypes registered". By default this looked like: ".mkv;. mk3d;. ogm;. ogv;. flv;. flac;. ape;. mpc;. mka;. avi" for us. But it's easy to add more: click "Deactivate Icaros", add a semicolon and media file extension to the end of the list, click "Activate Icaros", and thumbnails should now be available.
Icaros has a few other options available.
Setting a "thumbnail offset" tells the program where within the file to extract its thumbnail.
Enabling black/ white frame detection tells Icaros to check for almost all black or white thumbnails, and if there's a problem, to look for something better.
The program can also use embedded cover art for thumbnails, but this isn't enabled by default. Launch Icaros, click Advanced and check "Use embedded Cover Art for thumbnails" to turn it on.
Icaros worked very well for us, and the FFmpeg integration means it's unusually configurable. But if you have any problems then give the similar Media Preview (64-bit) a try. It can't be extended quite as easily, but is simpler to set up, and also delivers very good results.