Google launches 'Made With Code' initiative to inspire girls -- is that sexist?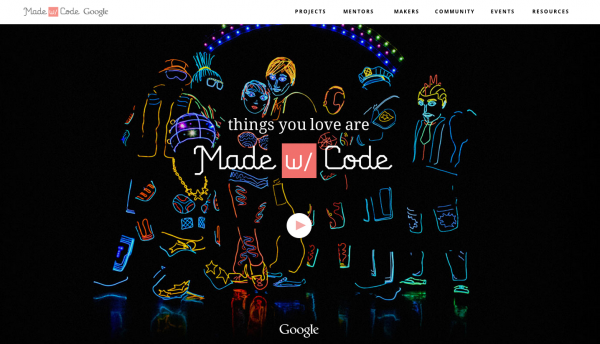 Inspiring children is always a great idea, but should gender or sex really matter in that regard? Even if a group is underrepresented in an area, does it mean the group deserves more attention than another? It's a question that has received much debate over the years and one that won't go away any time soon.
Today, Google is launching an initiative called Made With Code, designed to inspire young girls to learn how to code. While I am sure the intentions are good, I can't help but feel uneasy about an initiative that excludes based on gender or sex. In other words, just because men are better represented in programming, does this mean boys don't deserve the same attention from Google based on their genitals or gender identity?
"Unfortunately, there are far too few women like them and far too few young girls following their paths. In fact, fewer than one percent of high school girls express interest in majoring in computer science. This is an issue that hits home for me. My school-age daughter instinctively knows how to play games, watch videos and chat with friends online. She understands technology. And she likes using technology. But, she never expressed any interest in creating it herself", says Susan Wojcicki, CEO of YouTube.
Wojcicki further explains, "today, we're attempting to solve this issue on a much larger scale. Along with Chelsea Clinton, Girls Inc., Girl Scouts of the USA, Mindy Kaling, MIT Media Lab, National Center for Women & Information Technology, SevenTeen, TechCrunch and more, Google is launching Made with Code, an initiative to inspire girls to code".
Google touts the following features:
Cool introductory Blockly-based coding projects, like designing a bracelet 3D-printed by Shapeways, learning to create animated GIFs and building beats for a music track.
Collaborations with organizations like Girl Scouts of the USA and Girls, Inc. to introduce Made with Code to girls in their networks, encouraging them to complete their first coding experience.
A commitment of $50 million to support programs that can help get more females into computer science, like rewarding teachers who support girls who take CS courses on Codecademy or Khan Academy.
Really? A program designed for girls has to feature designing a bracelet as the first thing? This in itself seems to play on gender-based stereotypes that girls like jewelry. Either way, why can a girl only be inspired by the accomplishments of a woman? Google seems to think that showcasing women that code will empower these girls, and maybe it will. But rather than teach what a woman can do, why not teach both boys and girls that gender and sex mean nothing when it comes to coding? Show them what human beings can do.
Both boys and girls should feel proud of accomplishments made by men and women equally. Boys should be just as empowered and inspired as girls when watching videos showing the accomplishments of these women. Google's launching of an initiative that segments people based on sex and gender arguably has the opposite effect than what it intends.
Is this harmless or sexist?