New Microsoft Store opens on Long Island with Demi Lovato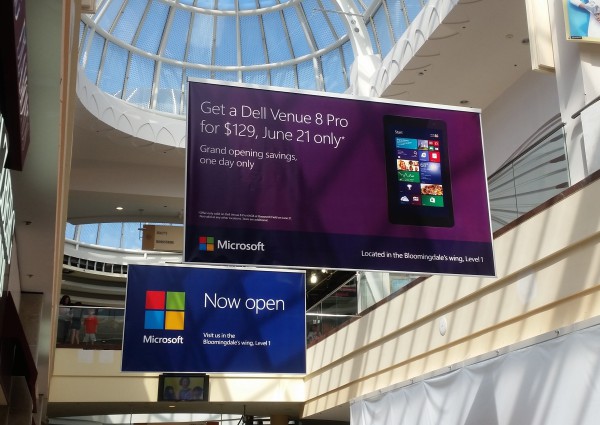 While Long Island is rather close to Manhattan, it is a far different experience. NYC is full of things to do, Long Island simply isn't. Retail is a pastime for us -- going to Best Buy, Target or the mall is a big deal. So, when Microsoft announced plans to open up a new store in the Roosevelt Field Mall in Garden City, there was a huge buzz. Lately, that buzz was magnified when a Demi Lovato concert was announced to accompany the opening. Microsoft would be giving away tickets and chances to meet the singer.
Truth be told, I did not know who Demi Lovato was (a pop singer), but apparently I am in the minority as thousands upon thousands of people (mostly young girls) started lining up at 10pm the night earlier to sleep at the mall so they could achieve tickets at 11am the following day. Yes, they waited in line 13 hours! This resulted in a really exciting store opening and BetaNews was there covering it.
When I entered the mall at 9:30am, on the opposite end from the soon to open Microsoft Store, it was dead. There was nothing happening except older people power-walking around. Many stores had yet to even open. However, as I made the trek to the other side, a faint sound of music became louder and louder until I came to a madhouse of excitement and electricity as sleep-deprived teen girls and their parents sat in a line that went farther than the eye could see.
To take peoples mind's off the insanity of sleeping in a mall, there were prizes being raffled off, such as GoPro cameras, signed Demi Lovato guitars and Bluetooth speakers. There was also a DJ playing all the newest hits, using an HP Windows laptop and turntables. It was refreshing to not see a Macbook being used by a DJ for once.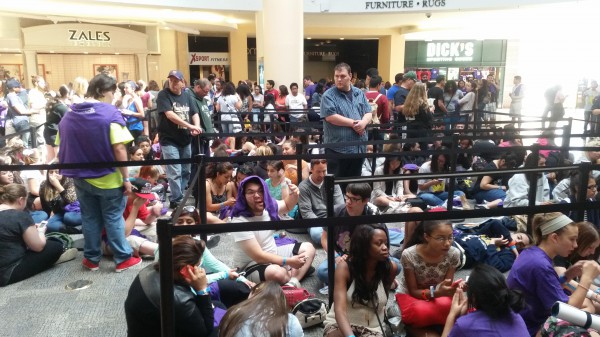 To officially open the store, Panos Panay, the Surface Guru, was on-hand with some giant scissors, to cut a symbolic ribbon. Before he did that though, he generously gave two Surface Pro 3 computers to the loudest and most excited fans. As you can see below, many people wanted to win, but two young guys scored the loot. Hilariously, the first guy was so excited that he let a naughty word go into the microphone and Panay had to warn him -- it was good fun though.
More importantly than Surface Pro 3 giveaways, Microsoft donated 1 million dollars to Long Island charities. The money was distributed as follows:
Autism Speaks -- $500,000
Girl Scouts of Nassau County -- $100,000
Variety Child Learning Center -- $200,000
United Way of Long Island -- $200,000
Finally, it was time to open the store, so Panos Panay cut the ribbon and insanity happened:
Besides giving away the concert tickets, Microsoft was selling the Dell Venue Pro 64GB for $129 and the Xbox 360 4GB for $99. These were flying off the shelves and this reporter took advantage of both deals.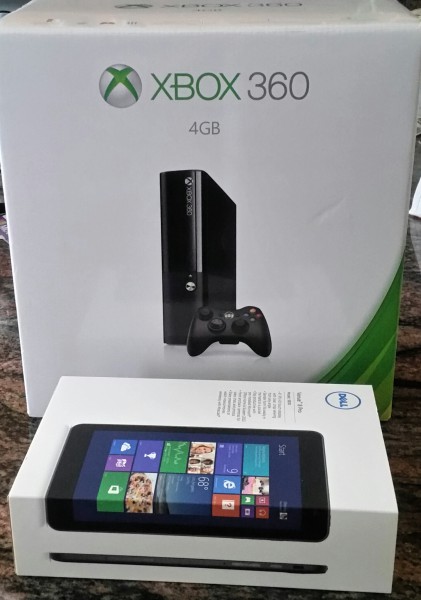 Believe it or not, while the majority of people were there for concert tickets, I saw many Surface Pro 3 tablets being sold during the ordeal. An older Microsoft loyalist even cancelled his vacation to attend the opening!
Ultimately, a good time was had by many, and most importantly Long Island charities received a substantial amount of money from the tech-giant. The store is beautiful and in a prime location, being directly downstairs from the Food Court. The layout is similar to other Microsoft Stores -- open and inviting. Kudos to the store employees for having fun and dancing.