Microsoft selects Opera as default browser for its Android phones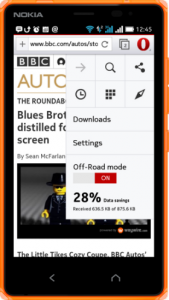 Earlier today, my colleague Wayne Williams reported that Microsoft is releasing its first Android phone. While not the first smartphone from Nokia to be powered by Google's operating system, it is the first under Microsoft's leadership. Let that sink in for a minute -- Microsoft is releasing a device powered by Linux. Has hell frozen? Are pigs flying? Surely, this is the sign of the apocalypse.
Every smartphone needs a default browser however, and the Nokia X2 is no exception. Sadly, Microsoft has not ported Internet Explorer to Android -- I would welcome that in the future though. No, it has chosen a different browser as default and it is not Chrome or Firefox, but Opera.
"With Opera, Nokia X customers will enjoy a super-fast web browsing experience while they save data, thanks to the Opera Turbo compression service embedded in the Opera browser. The news coincides with the unveiling of the new Nokia X2, the latest affordable smartphone from Microsoft and the first of an entirely new generation of Nokia X devices", says Opera Software.
Lars Boilesen, CEO, Opera Software explains "our companies have enjoyed a long history together, and this represents a huge step forward for both of the companies. We have worked closely with the Microsoft Devices Group on this project, to make sure the users of Nokia X affordable smartphones can have the best web browsing experience right out of the box".
The company touts the following benefits of its browser:
Opera Turbo, a cost and time-saving feature that compresses data before it reaches the user's mobile device. By switching on compression with Opera Turbo, webpages are compressed by Opera servers, resulting in a dramatic reduction in the amount of data transferred. For users on a pay-as-you-go data plan, or roaming while traveling, the savings can be significant.
The Discover feature, a novel way of finding content that users find interesting. Gathered from hundreds of websites all over the world, the Discover feature offers the cream of the crop in fresh content. It's customizable and easy to set preferences - the list can be sorted by country and topic - and get going with thousands of articles at a thumb's reach.
Speed Dial, an Opera Software innovation, has been perfected for the smartphone world. By letting the user save, move and organize Speed Dial entries into folders, Opera for Android lets users keep better track of sites they find interesting -- and get to them faster.
While Microsoft releasing a handset powered by a rival's operating system is shocking on its own, getting in bed with Opera is rather surprising too. They aren't necessarily bad moves -- both are sound from the perspective of diversity and covering all bases, but at what cost? This could send a message to the Windows Phone and Internet Explorer faithful that the company's eyes are wandering.
What do you think about today's announcements? Tell me in the comments.