Microsoft brings Bing Rewards to Windows Phone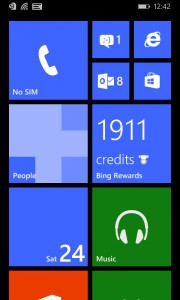 Some people say Google is better than Bing, and maybe they are right. However, that is a subjective statement. What they really mean to say is that Google is better for them. In reality they are both great search engines with different pros and cons. My favorite aspect of Microsoft's search engine is Bing Rewards -- a program that rewards users for searching. Hell, if you are searching anyways, why not get rewarded?
Sadly, Microsoft released a Bing Rewards app for Android and iOS, but not its own Windows Phone platform. This was hugely disappointing for users of Microsoft's mobile operating system, including myself. Today, Microsoft levels the playing field and makes it available for Windows Phone too.
"This new app is something special we're launching for users in the Windows Phone community. Set the app as a Live Tile to monitor credits and the status of your search and earn offer. Easily access your dashboard to see all your offers, manage your account, earn and redeem credits, enter sweepstakes and more", says Alex Danskin, Bing Rewards Team.
Dasnskin further explains, "Bing Rewards was designed to help you discover ways Bing can help you do the things that are most important to you. You can earn credits by searching the web every day with Bing and then redeem them for apps and games purchases at the Windows Store on your Windows 8.1 PC or Windows Phone 8. You can also redeem for popular gift cards from top brands or donate your credits to a local school or charity of your choice. Choose among rewards from Amazon.com, Starbucks, Xbox, Fandango and more. All you have to do is stay signed-in and keep searching with Bing".
What makes the app stand apart from its Android and iOS counterparts is the Live Tile support. Yes, the Bing Rewards app takes advantage of Microsoft's revolutionary UI. This will allow users to see their earned credits without having to open the app -- awesome.
Windows Phone users can download the app here. Tell me how you like it in the comments.