NETGEAR goes hardcore -- announces Nighthawk X6 AC3200 Tri-Band WiFi Router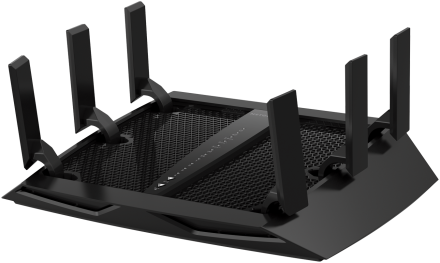 There are many ways to save money nowadays, such as only brushing your teeth every other day to save toothpaste or filling up your ketchup bottle with packets from McDonalds -- just kidding, guys. However, there are some things you should never do to save money. A good example is shoes -- something that are on your feet all day. In other words, buying uncomfortable shoes to save a buck is hardly a bargain.
This is also true with wireless routers and trust me, I've learned the hard way. Buying bargain-priced routers results in poor performance and dropped connections. Nothing sucks as much as having to unplug your router to reset it each week. And so, when it comes to routers, I try to get the best. Currently, I am using the newest Apple Airport Extreme AC router. It has proven to be extremely reliable and very fast. Today however, NETGEAR releases a router that makes me consider upgrading -- the Nighthawk X6 AC3200 Tri-Band WiFi Router.
"The new Nighthawk X6 AC3200 Tri-Band WiFi Router (R8000) is the first tri-band WiFi router available for purchase incorporating the powerful new Broadcom 5G WiFi XStream platform. With six high-performance antennas and three network bands, one 2.4GHz and two 5GHz, the Nighthawk X6 delivers the industry's fastest combined WiFi speed, up to 3.2 Gbps (1300+1300+600 Mbps). It balances the network load to ensure the best WiFi performance for each device and deliver the maximum wireless range available today", says NETGEAR.
The company further explains, "powered by a 1GHz dual core processor with three additional offload processors, Nighthawk X6 soars above the competition so you'll enjoy a blazing-fast WiFi experience using the latest 802.11ac wireless technology, such as the innovative 5G WiFi XStream technology from Broadcom. By optimizing speeds for all your WiFi devices, you'll be able to game on, stream away, and download mega-sized files without network lag from inside and outside your house, garage and yard".
The company touts the following features:
AC3200 WiFi technology enables the fastest combined WiFi speeds currently available -- up to 3.2 Gbps.
Tri-band WiFi intelligently connects devices to the fastest WiFi band possible and increases overall network speed.
6 high-performance external antennas and powerful amplifiers deliver maximum range around your home and yard.
1 GHz dual core processor with three offload processors supports blazing-fast WiFi, wired and USB storage performance.
Beamforming+ improves range reliability by focusing and locking on 2.4 and 5 GHz device signals as you move.
Smart Connect intelligently selects the fastest WiFi for every device which helps your 802.11n and 802.11ac devices choose the appropriate 5GHz band for the best performance.
VPN support ensures secure remote access to your home network.
Five Gigabit Ethernet ports (one WAN and four LAN) offer fast wired connections.
SuperSpeed USB 3.0 port offers high-speed, storage-ready access up to 10 times faster than USB 2.0.
ReadySHARE Vault, a free software application, automatically backs up Windows-based PCs to a USB hard drive connected to Nighthawk X6.
NETGEAR MyMedia enables you to find and play your stored media from anywhere on your network to your DLNA-ready TVs and music system.
iTunes server support enables you to play music on AirPlay-compatible devices using iTunes or Apple Remote.
NETGEAR genie is a personal dashboard that makes it easy to install, monitor, control and repair your home network from PCs, Mac OS X, and iOS and Android smartphones and tablets.
As you can see, the Nighthawk X6 AC3200 is fully loaded with tons of great features, which should make it useful for many years. Of course, with great power comes a great price tag -- $299.99. It will be available starting July 11, but you can pre-order it at Amazon today.
Will you buy it? Tell me in the comments.