The Tour de France starts Saturday and you can watch it on your mobile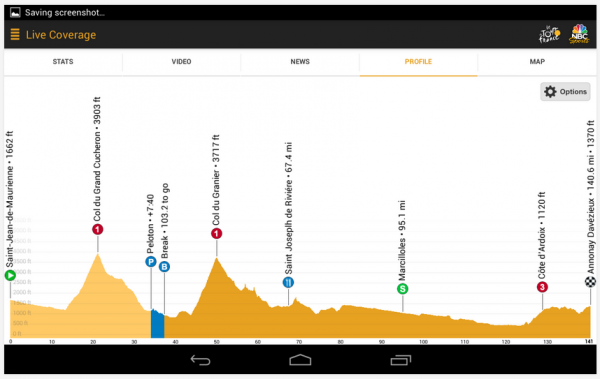 Not to be overshadowed by the World Cup, this Saturday professional cycling's biggest event kicks off. The season may run February to October, but nothing compares to the month of July. That's when the world's best gather in France -- well England this time, at least for a couple of days -- to participate in the spectacle that is the Tour de France.
While almost 200 riders take to the starting line, very few have a real shot at winning the race -- it takes all-around skill, including climbing, time trialing, and staying out of trouble in general, as accidents have ruined the chances of favorites many times.
If you want to watch every stage live right on your mobile device, then NBC has an app that will allow you to keep up with all of the action. NBC Tour de France Live is now available for iPad, iPhone and Android.
According to the description in the Google Play store, "Experience the 2014 Tour de France like never before…watch every stage LIVE on your Android handheld or tablet device. And track the peloton in real-time with interactive maps and profiles. It's as close as you can get to the Tour without a passport".
It's not particularly cheap, selling for $14.99, but that's really not bad for three weeks of action. Each stage generally lasts between three and six hours, so you'll be getting your money's worth on this deal. You can grab a copy for yourself for Android, iPhone or iPad. The only thing you need to do after that is make your prediction for the eventual winner. Will Britain's Chris Froome repeat? Can the young American Tejay Van Garderen make a run at the title? We won't know until things conclude on the Champs Elysees in Paris.