Creative announces T3250 Wireless Bluetooth 2.1 Speakers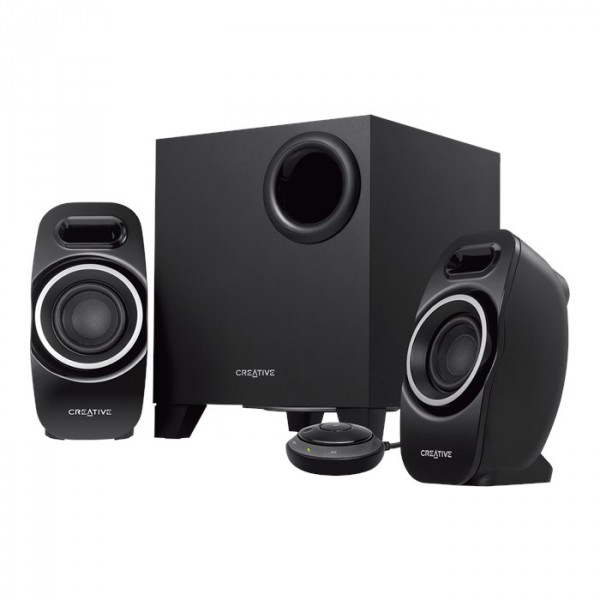 Creative is a company that is very hit or miss. Over the years, I have enjoyed many of its products -- mostly sound cards. However, while much of the company's hardware is solid, software and drivers have been dreadful. In fact, driver support and performance in Windows Vista and 7 were so bad, that many users decided to boycott the company altogether. If a card actually worked, it was often subject to random cracks, pops and screeches -- painful for ears. I spent many nights in Creative's forums witnessing the atrocities of both its drivers and poor customer support.
With all of that said, I am not one to hold grudges and never want to see a company falter. Yes, I am willing to start looking at Creative products again after a long hiatus since my X-Fi Elite Pro woes from years ago. Today, the company announces some inexpensive speakers that appear to be a good value -- the T3250 Wireless Bluetooth 2.1 Speakers.
"Built to deliver impressive audio performance, the Creative T3250 Wireless features Creative Image Focusing Plate (IFP) that allows the speaker system to achieve a wide acoustic sweet spot with improved sonic directivity, and to preserve tonal accuracy. The audio spectrum of the satellites is further enhanced by incorporating Creative Dual Slot Enclosure (DSE), a truly functional port tube to deliver robust mid bass reproduction. The speaker system's custom-tuned down-firing subwoofer delivers a punchy bass performance", says Creative.
The manufacturer further explains, "The Creative T3250 Wireless features Bluetooth connection that enables it to stream music wirelessly from most stereo Bluetooth devices such as smart phones, tablets and laptops. It has a 3.5mm Line-in jack for seamless connection to other analog audio devices. The speaker system also comes with an audio control pod that includes Power ON/OFF, Bluetooth and volume control for ease of use".
Creative lists the following specs:
Product Weight : 2.1 kg / 4.6 lbs
Satellites Dimension (HxWxD) : 147 x 70 x 75 mm / 5.8 x 2.8 x 3.0 inches
Subwoofer Dimension (HxWxD) : 222 x 183 x 183 mm / 8.7 x 7.2 x 7.2 inches
Bluetooth operating frequency : 2402 -- 2480MHz
Bluetooth Version : 3.0
Supported Bluetooth profile : A2DP (Wireless Stereo Bluetooth).
Supported Codec : SBC
Operating Range for Bluetooth devices : Up to 10 meters
(Measured in open space. Walls and structures may affect range of device.)
3.5mm Integrated Line-In jack for other audio devices
At $69.99 it is an impressive value -- maybe. Do you see something missing from the specs? Exactly, wattage. In typical Creative fashion, it omits this very important information. I would sort of like to know how loud these things are, right? I have reached out to Creative and will update accordingly. Sigh.
Wattage aside, I like the fact that it is not a portable all-in-one Bluetooth speaker system, but instead designed for a desk with a wired remote and individual housings. This design will allow the user to have better stereo separation, as the left and right satellites can be positioned apart.
Of course, you do not have to use it wirelessly; you can use the 3.5mm input as a wired option too. The way I envision my usage is that it would be connected via a wire to my desktop and that the Bluetooth would be used for phones and tablets. This way, I have the best of both worlds and don't have to worry about Bluetooth pairing with my desktop -- something that can be a pain when you dual-boot and switch operating systems often.
What is your opinion of Creative? Tell me in the comments.