Access multiple cloud storage accounts with B1 File Manager for Android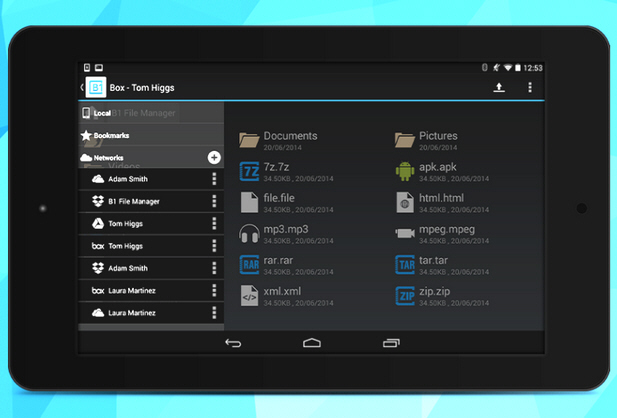 Back in June we looked at B1 Free Archiver, a free cross-platform archive manager which can open (though not create) 38+ archive formats.
The same developer is also behind B1 File Manager, a capable file explorer for Android.
The app's interface is nothing exceptional, but it covers all the basics, and more. You're able to move/ copy/ delete/ paste/ rename files on local storage, SD cards and USB drives, and there's support for FTP, SFTP and SMB.
There's good cloud storage support. Not only can the program handle Dropbox, Google Drive, OneDrive, Box and (new in the latest released) 4shared, but it also allows you to browse multiple accounts on any service, all at the same time.
(If you don't have multiple accounts, no problem -- you can create new ones without leaving the app.)
And of course you also get all the functionality of B1 Free Archiver, which means you can open all the main archive formats (including multi-volume and password protected) and create zip and (the program's own) b1 format archives.
It's not Solid Explorer, but B1 File Manager is a useful free app, with strong archiving and cloud storage support. It's being actively developed, too, and we expect to see worthwhile improvements over the next few months.