Amazon holds a Fire (TV) sale, celebrates new apps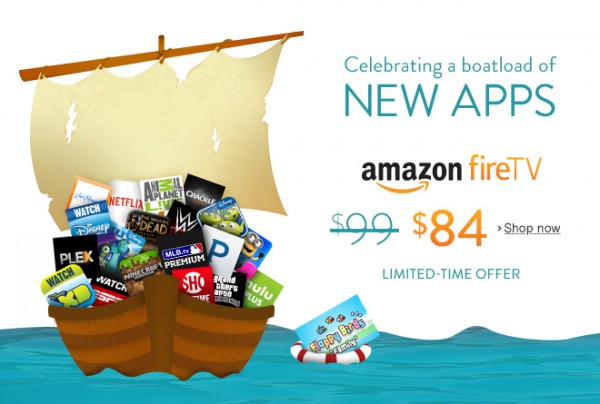 The Amazon Fire TV has become a solid competitor in today's set-top box market, competing with Roku, Apple TV and others. It works especially well for those who are Prime subscribers, as the service is completely integrated into the tiny box.
But Prime is not all you can do with Fire TV, other apps, like Hulu and Netflix, were available at launch and Amazon promised more on the way. That time has arrived, and the company is celebrating in its usual manner. That is, offering discounts on the device.
For a limited time, customers can grab a Fire TV for $84, a $15 discount over the regular price. The offer is placed prominently on the retailers front page, proclaiming "celebrating a boatload of new apps".
Just over a week ago, Amazon announced "New services include WATCH Disney Channel, WATCH Disney Junior, MLB.TV, Animal Planet L!ve, and WWE Network, and more are already on the way -- by the end of the year TV services such as WATCH ABC, WATCH ABC Family, NFL Now, A+E Networks (including A&E, HISTORY & Lifetime), Outside TV, Young Hollywood, North Face TV, Fashion TV, Green TV and Dailymotion will all be available to Fire TV customers".
The sale does not list which apps have become available as of yet, nor does it list how long this deal will be good for, only saying it is a "limited time offer".