SingularLabs releases free clipboard manager Remembr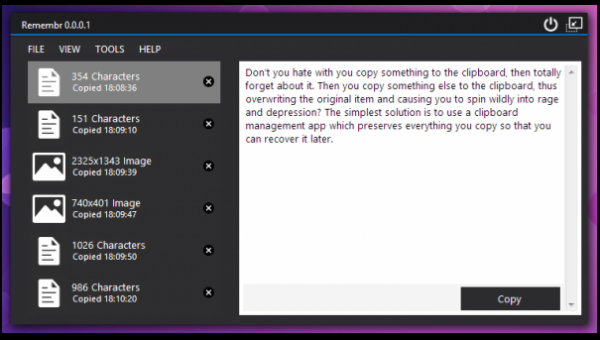 Shane Gowland's SingularLabs has announced the release of Remembr 0.0.0.1, a simple free clipboard manager for Windows.
As with similar programs, Remembr lives in your system tray, and maintains a list of the text and images you copy to the clipboard.
The list can be viewed on demand. A plus point is that every item has key details displayed -- the time they were copied, resolution of images, number of characters for text items -- making it easier to find whatever you need.
A built-in search tool enables you to locate items containing particular keywords. A Preview pane displays whatever item you select, and you can restore it to the clipboard with a click.
Perhaps unsurprisingly for a first release, there are lots of issues, mostly relating to the very limited interface. There are no keyboard shortcuts (not even Del to delete an item), no right-click or double-click actions, Search is hidden away in a menu and its results are handled poorly (hits are highlighted in the list instead of being displayed separately, meaning you might have to scroll through 50 items to find the 2 you need).
Remembr looks good, though, and the core functionality works well enough, which is really what matters for the first version. Most of the program's other issues could be resolved in a morning, so we expect big improvements will be arriving soon.