Panasonic releases Unbreakable Valor -- a Toughbook comic book (yes, really)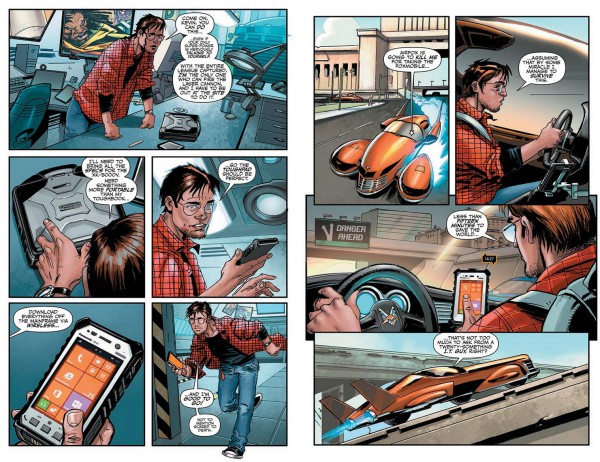 There are countless ways to promote a product nowadays. The problem is fun and creativity are very much dead -- so many advertisements and promotions are simply yawn-worthy. This is a shame, particularly for the technology community, where nerds are abundant. If you aren't aware, nerds and geeks love nerdy and geeky things, so it is surprising that more companies do not embrace those interests.
Today, typically conservative Panasonic launches one of the coolest corporate, promotional, advertisements ever. You see, many computer nerds (including myself) are socially inept and uncool and this brought us down the path of something wonderful as children -- comic books! Yes, nerds and geeks love both comic books and computers so Panasonic is launching Unbreakable Valor (and it's actually good).
"Panasonic, an industry leader in reliable and innovative mobile computers since 1996, today announced the launch of 'Unbreakable Valor', a limited-edition comic book series featuring Panasonic Toughpad rugged tablets. Produced by a team of notable comic book industry veterans, the series follows the adventures of the League of Valor, an organization of superpowered heroes who rely on Panasonic enterprise technology solutions, and their IT specialist Kevin Massing", says Panasonic.
The company further explains, "the issue showcases the new Toughpad FZ-E1, a fully-rugged 5-inch handheld tablet powered by Windows Embedded 8.1 Handheld. Submersible in water and able to withstand drops of up to 10 feet to concrete, and offering a 14-hour hot-swappable battery and optional voice/data connectivity, the Toughpad FZ-E1 is purpose-built for mobile professionals in transportation and logistics, government, utilities, manufacturing, retail and field services".
True, it is designed for Toughbook product placement and as an advertisement, but so what? Panasonic tells BetaNews that some of the participants in the project have worked with both Marvel and DC, so this is not some throw-away comic. No, it actually has a cool story and nice art; you can tell that care and effort went into it. To show how hip Panasonic is, it even ends with a group-selfie.
Best of all, the company is launching a sweepstakes in conjunction. To read the comic and enter the sweepstakes (link on last page), just click here.