Auslogics Browser Care 2.0 puts you back in control of your browser's key settings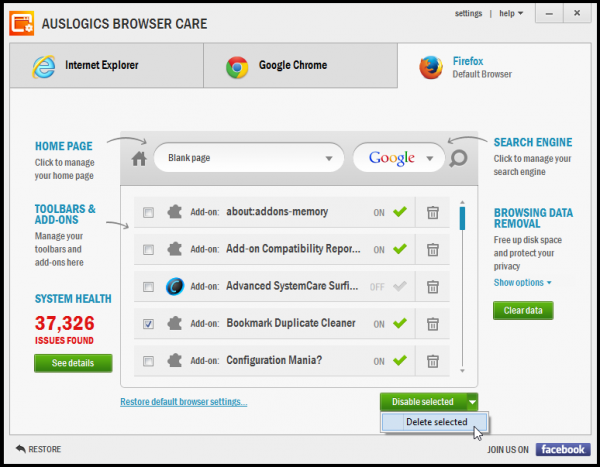 Auslogics has released Auslogics Browser Care 2.0, a major new version of its Windows browser management tool that's aimed at novices.
Version 2.0 adds a new system health scanner tool, promises better handling of Chrome, Firefox and IE plugins, fixes all known bugs and implements an improved browser cache cleanup feature.
The new system health scanner tool is clearly aimed at encouraging users to upgrade to Auslogics' flagship optimization tool, BoostSpeed. It alerts the user to thousands of potential "issues", but clicking the link merely redirects to a download page for BoostSpeed.
The page does at least compartmentalize the issues into junk files and unspecified "threats" to user privacy, but we weren't impressed to find our test machine threw up 37,226 issues, of which 33,792 were junk files. We understand the need to upsell to a commercial product, but respectfully suggest there are less exaggerated and alarmist ways to encourage users to upgrade.
This is a shame, because the other improvements help make Browser Care a potentially useful tool for both novices and those wanting a more convenient way to manage their browser settings.
It works with Internet Explorer, Chrome and Firefox across a series of tabs. Everything you need to know about regaining control and tweaking your browser can be found here, with clearly labelled sections revealing how to manage your home page, disable (or delete) toolbars and add-ons, change your browser's default search engine and tools for clearing up privacy. You can even switch default browser from here.
Nothing on offer can't already be done within your browser, but Browser Care simply puts these tools at your fingertips. Better still, it even offers access to Auslogics' Recovery Source via the Restore button, letting you undo any changes you make should you want to reset and start again.
The program will appeal in particular to novices, and may also be of use cleaning up after browser hijackings, although if the hijack isn't confined to a browser plugin then Browser Care won't necessarily be able to stop it.
Auslogics Browser Care 2.0 is available now as a freeware download for PCs running Windows XP or later.