Clean up after over 30 antivirus tools with Antivirus Remover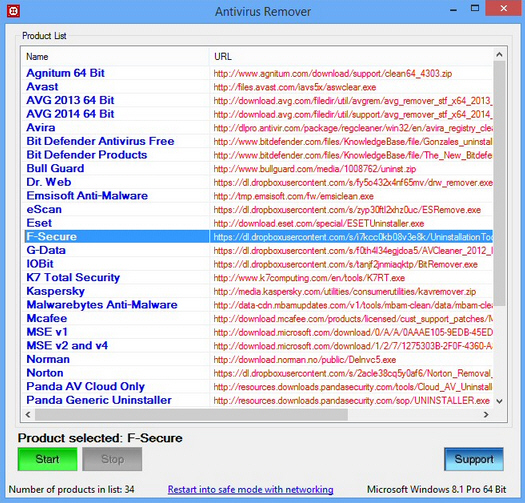 Antivirus software installations are often complex, involving many low-level alterations to your PC and its settings. Sometimes they don't work as they should -- or the regular uninstaller fails to remove them completely -- and this can leave you with all kinds of frustrating problems and system instabilities.
Security vendors often have stand-alone tools to properly remove and clean up after their products. A quick web search should point you in the right direction, but if you're regularly cleaning up other people's PCs then the free Antivirus Remover could save you a little time.
The program was written by Wilders Security Forums member Brocke, and there's no website for it. Instead you just download the single executable, then copy it to your portable troubleshooting toolkit, ready for use on any problem PC.
Launch Antivirus Remover and it displays a list of supported uninstallers. On our test system this included products from Agnitum, Avast, AVG, Avira, Bitdefender, BullGuard, Dr Wen, Emsisoft, eScan, ESET, F-Secure, G-Data, IOBit, K7, Kaspersky, Malwarebytes, McAfee, Microsoft, Norman, Norton, Panda, Quick Heal, SUPERAntiSpyware, Trend Micro, TrustPort, Webroot, WinPatrol and ZoneAlarm.
By default this list shows only products compatible with your system (64-bit uninstallers won't be listed on 32-bit Windows). If you'd like to download a tool for use elsewhere, right-clicking the list and selecting "Show full list" displays everything.
This kind of cleanup tool generally works best when run from Safe Mode (with networking). If you're just running Windows normally, Antivirus Remover warns you of this and offers a "restart into Safe Mode" option.
Otherwise, downloading any uninstaller is as easy as double-clicking it and choosing a location (there are one-click options for "temporary directory" and "desktop"). Antivirus Remover then downloads the file for you and, on completion, offers to launch it.
There's nothing too advanced or surprising here, nothing significant that you couldn't achieve with Google or a folder of internet shortcuts. Antivirus Remover is free, portable and easy-to-use, though, and if you regularly need to clean up other people's PCs then it could save you some time.