LG targets 3G markets with two new affordable Android smartphones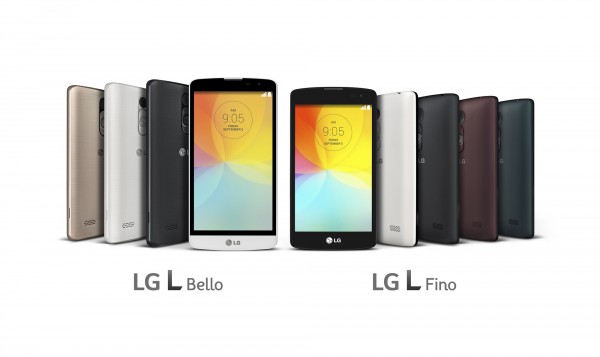 Even though 4G is undoubtedly the better technology for data consumption, in most markets across the globe 3G is still prevalent. The lower cost as well as the broader device selection certainly helps the latter remain attractive to consumers, at least until 4G is as readily available.
South Korean maker LG is keen to supply 3G-toting handsets going forward, as it announces the new Android-based L Bello and L Fino smartphones. The two, which are aimed at price-conscious consumers in "growing 3G markets", are said to pack solid specs, so let us take a look at what they have to offer.
L Bello is the more interesting of the two. It features a 5-inch IPS display, albeit with a low resolution of 480 by 854, and is powered by a 1.3 GHz quad-core processor, backed by 1 GB of RAM and a 2,540 mAh battery. There is an 8 MP camera on the back, while on the front there is a 1 MP shooter. The amount of storage is limited to 8 GB, as there is no microSD card slot listed. It comes in at 138.2 x 70.6 x 10.7 mm and will be offered in Black, Gold and White.
L Fino comes with lesser specs, by comparison, as it has a 4.5-inch IPS display, with a lower resolution of 480 by 800 (albeit with slightly more dense pixels). Inside, there is a 1.2 GHz quad-core processor with 1 GB of RAM, and a 1,900 mAh battery to power the device. There is an 8 MP main camera, and a 0.3 MP secondary shooter. L Fino measures 127.5 x 67.9 x 11.9 mm. Color options include Black, Gold, Green, Red and White.
Both devices run Android 4.4.2 KitKat, with LG's own customizations added on top. That means consumers will be able to take advantage of features like Touch & Shoot to snap a photo with a single tap and Knock Code to unlock their device with a tap pattern. And for both QuickCircle Cases will be made available, with matching software tweaks, like calling with the cover on.
"With their competitive specs and accessible pricing, we have high hopes for the L Fino and L Bello to continue our successful expansion into emerging markets", says LG CEO Dr. Jong-seok Park. "Our newest L Series smartphones represent the best of LG in design, hardware and UX as well as our commitment to bringing best smartphone experience to 3G customers as many as possible".
LG's new L Bello and L Fino will hit store shelves starting this month, with key markets in Latin America to be the first to receive them. The two will reach Europe, Asia and the CIS region next.