The Score brings new mobile features in time for football season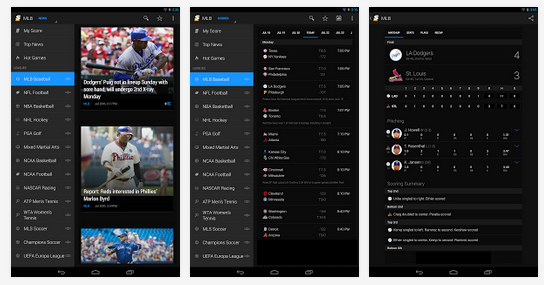 The NFL season is about to get underway, though pre-season games are already in full swing. The Score wants to bring you all of the action with its latest "mobile-first" update, that includes lots of enhancements for fantasy team owners, as well.
The app is multi-sport, so don't worry if you're a fan of baseball or basketball instead. This update announcement, though, focuses on the season at hand. The new version promises to "provide the most detailed, comprehensive, in-depth football data found on a multi-sport mobile app".
In addition to live game scores, news and recaps, fans can expect real-time, in-depth, player stats. These include a new "fantasy" tab which will provide real-time stats on the best performing players, which can be filtered by position. In addition, the announcement says "You can also follow any player and get push alerts for breaking news -- including injury updates -- as well as in-game plays like touchdowns, interceptions, fumbles and game milestones".
You'll also get player comparisons for season and individual game totals, point spreads on each game and "situational team splits to live games, giving fans the inside track on what the next play the offense will likely be running and their odds of success".
The app grew this summer, claiming the World Cup brought many new customers. It's available for both iOS and Android, and you can grab it here.