LG officially announces G3 Stylus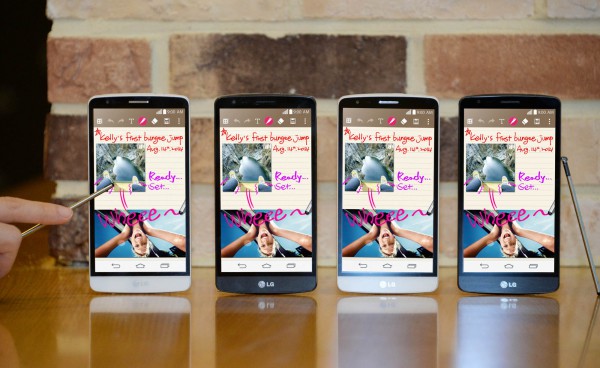 Early this month, LG revealed the existence of a stylus-toting G3 version, called G3 Stylus, in a marketing video for its newly-introduced G3 Beat. Given that Samsung will shortly announce the Galaxy Note 3 successor, it has been expected that LG's new handset will be positioned as a direct rival. As it turns out, that is not the case.
Today, LG officially takes the wraps off G3 Stylus, revealing hardware specifications worthy of a budget-friendly Android smartphone. There is no high-resolution display or high-end processor. Instead, it has a modest 5.5-inch IPS panel with a low resolution of 540 by 960, and a 1.3 GHz quad-core chip. And, because of it, LG says it sits in a class of its own.
"With its exceptional hardware and exceptional price that can't be beat, the LG G3 Stylus is in a category all by itself", says LG CEO Dr. Jong-seok Park. "The LG G3 Stylus is the perfect tool for consumers who don't want to be bogged down carrying a laptop, tablet and smartphone. It gets things done and lets you have fun while doing without having to compromise on quality, style or user experience".
It does, rather unsurprisingly at this stage, come with 1 GB of RAM. That's the minimum amount of RAM that is acceptable in a modern Android handset. G3 Stylus is powered by a 3,000 mAh battery, which is as large as the one found inside G3. Given that, by comparison, it has a much lower display resolution and a less powerful processor, G3 Stylus should yield better battery life.
On the back, there is a 13 MP camera, while a 1.3 MP shooter can be found on the front. It has 8 GB of internal storage, aided by a microSD card slot. Connectivity-wise, we are looking at 3G cellular network support, with no 4G LTE compatibility to be seen.
It will ship with Android 4.4.2 KitKat, coupled with LG's own customizations. That means features like Smart Keyboard, which is a SwiftKey-like keyboard, Touch & Shoot, which allows users to snap a photo with a single tap in the camera app, and Knock Code, which allows users to unlock the device using a tap pattern, are offered.
G3 Stylus comes in at 149.3 x 75.9 x 10.2 mm and 163 grams. It is bulkier than G3 to accommodate the stylus. It will be available, starting next month, in black, gold and white. The first market to see G3 Stylus is Brazil, with Asia, Middle East, Africa and CIS to follow. If you are in Berlin when IFA is hosted this year, you can check it out at LG's booth.