Archos announces its first Windows Phone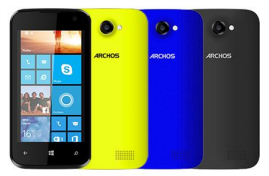 Windows Phone is enjoying the support of more smartphone manufacturers than ever. In fact, at Build 2014, Microsoft revealed its tiled operating system had 15 vendors committed to the platform (theoretically speaking). A few more joined the list since, with Archos being the latest to unveil its first Windows Phone.
The French electronics company is readying the poorly-named 40 Cesium Smartphone for a September launch. The device tagets low-end smartphone buyers, as the Windows Phone will hit stores with a price tag of just £79.
Windows Phone 8.1 is Archos' tiled operating system version of choice for 40 Cesium Smartphone. That said, it should be offered with Windows Phone 8.1 Update 1, as this is a more-recent release which adds useful features.
On the hardware front, 40 Cesium Smartphone is touted to offer "powerful internals", but it only packs a quad-core Qualcomm Snapdragon 200 processor. That's to be expected given its low price. There is a 4-inch display taking most of space on the front with what appear to be capacitive buttons under it.
It, as you might expect, has a rear-facing camera, accompanied by an LED flash, but Archos makes no mention of its specifications in the press release, or any other specs for that matter. It does however say that 40 Cesium Smartphone will be offered in black, blue and yellow.
Alongside 40 Cesium Smartphone, Archos has also announced 80 Cesium Tablet. It is an 8-inch Windows 8.1 slate with an IPS panel with a resolution of 1280 by 800 and a quad-core Intel processor inside. Its price is set at £129 for its October launch.