CCleaner 4.17 improves browser cleanup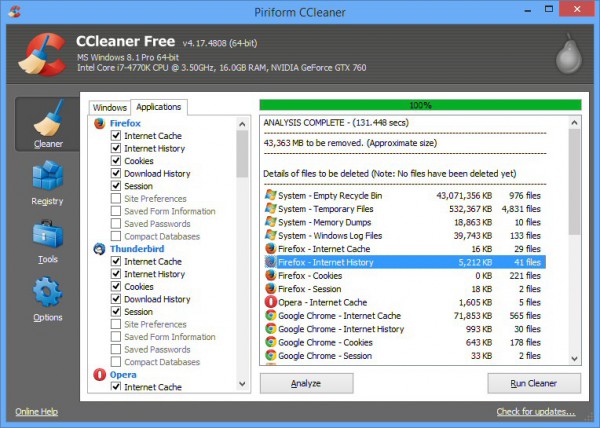 Popular system optimization tool CCleaner has been updated to version 4.17 with a series of mostly browser-related improvements.
The official release notes say the new build -- also available in a portable version -- adds "Google Chrome and Opera GPU cache cleaning". We're not entirely sure what that involves, but it's here anyway: let's see if it makes a difference.
More conventional tweaks include enhanced cleaning of Chrome and Opera's Download History, better detection of Chrome and Firefox startup items, and improved Firefox Aurora session cleaning.
There's new support for cleaning the third-party applications PhotoScape, ManyCam and the excellent BlueStacks.
AntiVir Desktop and Wondershare cleaning has also been improved.
There are the usual assorted interface improvements and bug fixes.
If CCleaner is set up to automatically check for updates then you'll probably know about the release already (click Options > Settings and select "Automatically check for updates…" if you'd like to turn this on).
Otherwise CCleaner 4.17 and CCleaner Portable 4.17 are now available as downloads for Windows XP and later. CCleaner Professional adds automatic updating and more, and is still available at a discount price of $24.95.