Corel PaintShop Pro X7 adds new Magic Fill erase tool, promises more responsive brush performance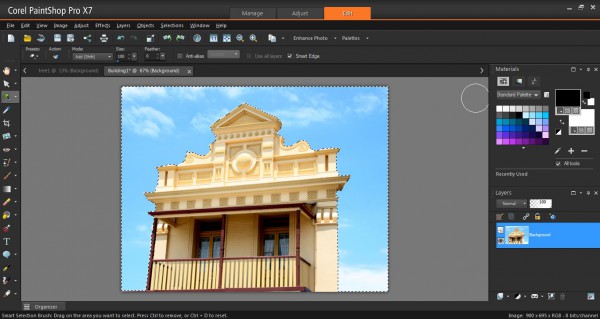 Corel has released PaintShop Pro X7, a major new version of its venerable photo and image editor. Version X7 sees a number of new features, including Magic Fill erase tool. It also sees its popular tools redesigned to make them easier to use.
The app also comes with the promise of more responsive Paint Brush, Airbrush and photo retouching brush tools thanks to a performance gain of up to 30 percent.
The new Magic Fill tool makes it easier to remove unwanted elements from an image without leaving an unsightly gap thanks to content-aware editing that works alongside existing selection tools. When users erase the unwanted element, the Magic Fill tool attempts to seamlessly replace it with content to match the background area, however textured.
PaintShop Pro X7 also debuts new Text and Shape Cutter tools, which allows users to create photo objects using text or shapes to clip underlying photos or imagery. The created objects can then be pasted or dragged to other images.
Also new is the Materials Palette, which features "Color Harmonies" and is designed to make it easier and quicker to find colors, textures or patterns. A Dropper tool makes it possible to build a custom palette, while the Color Harmonies tool suggests complementary colours via preset harmony settings or colour suggestions.
Not only has brush performance been improved, but there's a new Smart Edge tool added that should help users keep their brush strokes within the boundaries when painting or drawing around objects.
A large number of popular photo editing tools have been redesigned to make them easier to use -- these include Selective Focus, Vignette, Retro Labs, Graduated filters, Depth of Field, Smart Photo Fix, Red Eye Removal and Digital Noise Removal.
Users can also get started more quickly thanks to a revamped New Image dialog, which offers common canvas sizes for photos, print, web and other elements when choosing the project dimensions.
Other changes include a streamlined Layer workflow, with support for dragging layers between images, allowing users to position it between or above layers. PaintShop Pro X7 also gains support for reading and importing data from Corel's XMP file format.
Corel PaintShop Pro X7 is available now as a free 30-day trial for PCs running Windows XP (with latest Service Pack) or later. A multi-core processor and 4GB RAM is recommended. The full version can be purchased for $79.99 new, or $59.99 as an upgrade.