Lumsing PBJ-6200 Power Bank: A stylish phone charging solution [Review]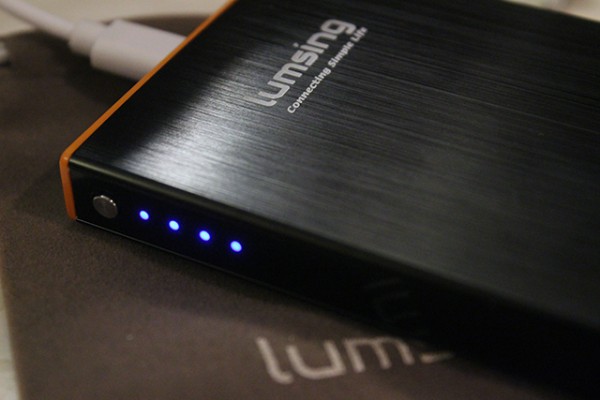 I charge my iPhone 5s every night -- it's pretty much a standard routine. Although people moan about the iPhone's battery life, I have no complaints. In fact my old Samsung Galaxy S III needed charging more regularly. But every so often a little extra battery boost is required, which is fine if I'm at home, but less convenient when I'm out and about (and I have no interest in being a wall hugger). This is where an external battery pack can come in handy.
Lumsing's PBJ-6200 Power Bank has already proven to be a life saver in the couple of weeks I've had it. The device is roughly the same dimensions as my phone -- 4.88x 2.64 x 0.51 inches (124 x 67 x13 mm) -- and has a 6,000mAh capacity, which is enough to charge my iPhone about three times (a Galaxy S4 twice, or an iPad mini once).
It weighs 6.49 oz/186g and offers a 1.5A microUSB port for charging (it comes with a cable for connecting to a PC or USB adapter, but there's no wall charger included), and two USB out ports -- one 1A port and one rated at 2.1A, so it's suitable for charging all manner of devices. It's even powerful enough to charge two devices at the same time.
It's stylishly designed, with an aluminum alloy shell, and four blue LEDs on the side which indicate the charge level when you hit the silver power button. Four lit LEDs equals 100 percent charge, three and one flashing is 75-100 percent, two and one flashing is 50-75 percent, one and one flashing is 25-50 percent and one flashing is less than 10 percent.
Charging the Power Bank is just a matter of plugging it in and clicking the power button. Two LEDs flash sequentially, showing it's charging.
Available in black and orange, or silver and blue, it's priced at £50 on Amazon.co.uk (it's out of stock at Amazon.com), but is currently selling for just £14.99.
While it's difficult to get too excited about a battery pack, the PBJ-6200 Power Bank is very stylishly designed, and smartly packaged. And, it comes at a price it's hard to argue with. If you need to charge a phone or tablet when you're away from a plug socket, it offers the perfect solution.