Apple revolutionizes mobile payments with Apple Pay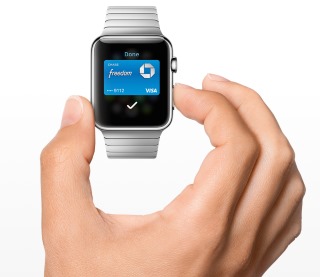 The focus of Apple's event today was the iPhone 6, iPhone 6 Plus, and the Apple Watch, but one of the more understated stars of the show was Apple Pay. This is not hardware, but a new mobile payment platform which Apple is billing as "your wallet, without the wallet". It works in conjunction with the new handsets to provide a new means of contactless payment and it supports credit and debit cards from American Express, MasterCard and Visa. There's backing from the likes of Wells Fargo, Bank of America, and Capital One Bank, and users need to just add their credit or debit card to their iTunes Store account to start paying for goods and services with their phone -- or Apple Watch.
A number of big names have already jumped on the Apple Pay bandwagon, including McDonald's, Staples, Disney Store, and Whole Foods Market, as well as the 258 US Apple stores. Apple Pay can also be used in the App Store as well as more than 220,000 locations that support contactless payment. In addition to the benefits of contactless payment, Apple is really pushing the security aspects of Apple Pay. Eddy Cue, Apple's senior vice president of Internet Software and Services says:
Security and privacy is at the core of Apple Pay. When you're using Apple Pay in a store, restaurant or other merchant, cashiers will no longer see your name, credit card number or security code, helping to reduce the potential for fraud.
The new payment system rolls out in October and ties in with Find My iPhone as a security measure. Should your iPhone be lost or stolen, you can easily suspend payments so a bill is not racked up on your behalf. But there's also a great focus on ease and speed. The use of the iPhone 6's NFC antenna means there's no need to touch anything on-screen other than the Touch ID reader -- a payment can be made with a wave of the handset. In the case of the Apple Watch, a quick double tap of the Digital Crown is all it takes, and payment confirmation is provided with a beep and vibrate.