Apple's next big thing is even bigger for Invensense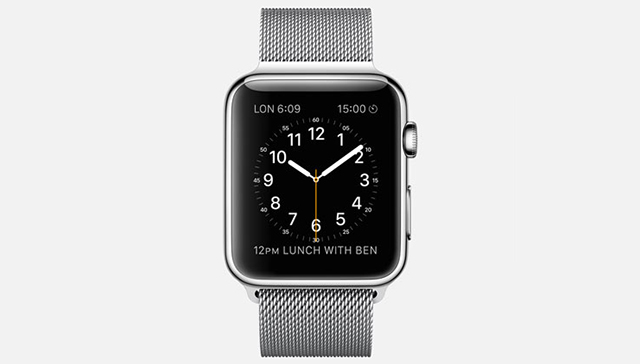 Analysts and the Apple faithful alike fawned over the new device when Apple introduced the Apple Watch on Tuesday, the company's first new product of the Cook era. However, if you're one to believe rumors, an upstart company called Invensense may stand to gain the most from Apple's latest device.
An increasing amount of evidence now suggests that the San Jose, Calif. based company stands to cash in on the Apple Watch, as it is believed that Invensense is supplying Apple with the components necessary to power the Apple Watch's most compelling features.
Inven-who?
Who is Invensense? Its chips and sensors --including those so-called "system-on-a-chip" solutions -- can be found on devices including cell phones, tablets, remote controls, and gaming devices. Although founded in 2003, the company didn't see significant growth until the past five years or so, when mobile sensing technologies became more ubiquitous.
Device manufacturers looked for more intuitive ways for user interaction. The standard point and click (or in mobile device terms, point and tap) gave way to gyroscopes, accelerometers, compasses, and other methods to measure motion in free space. Invensense specialized in these technologies, and was primed to capitalize.
The company's bottom line reflects this: annual revenue has nearly tripled over the past three fiscal years ending in March. Invensense president and CEO Behrooz Abdi said in a recent earnings release that recent design wins are "positioning us for strong market share increases in the coming quarters".
Could one of those design wins be Apple? There are some hints that the answer could be yes.
It's All About Battery Life
The aforementioned components that Invensense focuses on -- while making our phones more useful -- also drain the device's battery. Ensuring minimal battery drain is going to be paramount in a device as small as the Apple Watch.
Apple is certainly concerned with battery life. LTE adoption in the iPhone was held up long after it had become commonplace elsewhere due to battery life concerns. There is even evidence as reported by Re/code earlier this week that current iterations of the Apple Watch drain the battery in less than a day.
Invensense is positioned well to meet these challenges. Low power is a signature of its product lineup, and one of its new chips seems like a good fit. In June, the company announced the release of a new gyroscope chip that uses just under six milliwatts of power in a chip that is only .75 millimeters thick. Invensense also has several other products aimed at low-power applications which seem a natural fit for devices like the Apple Watch.
Apple: The Big Get
Product additions alone aren't sufficient evidence that Apple is ready to jump on board with Invensense. Another clue could come in the company's dramatic increase in production capacity. Earlier this year, the company announced it was ramping up capacity from 400 million units to nearly one billion units annually.
Such a dramatic shift in production is not made on a hunch alone, especially for a relatively small (at least for now) chipmaker. The company must have gained a major customer, as there are very few electronics companies able to place large enough orders to warrant this need. Several of those companies are already Invensense customers, but not Apple.
Those changes caught the eye of stock analysts like Pacific Crest's John Vihn, who said with the new capacity Invensense "remains extremely well-positioned to penetrate Apple this year". Other analysts argue that getting into the Apple Watch provides a gateway into Apple's other portable devices, creating even more upside for the company's bottom line.
Of course, with Apple's secretive nature and its control of its partners and what they can say, it is likely we'll get no confirmation until the new year at the earliest. But if true, Invensense may be well positioned to become Silicon Valley's next hot company.