T-Mobile brings free Wi-Fi calling to its customers, and it's terrible news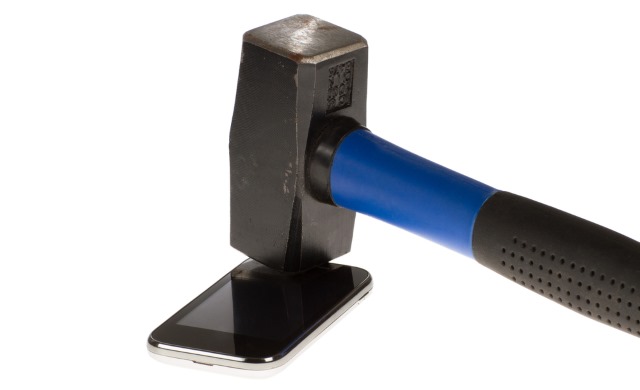 At its seventh Uncarrier event in San Francisco, T-Mobile unveiled plans to clutter up the internet for everyone -- T-Mobile customers and non-T-Mobile customers alike. On the face of it, things sound great. The T-Mobile Personal CellSpot offers free Wi-Fi calling and "fast data". The Cellspot is essentially a router which can be yours for a deposit of $25 but the difference is that it has been tweaked so that it prioritizes HD Wi-Fi calls over other traffic on the network. If you live in an area with poor mobile reception -- which can be just as frustrating as having to put up with a terrible internet connection -- this might sound like wonderful news, but when you look at the bigger picture, it is really such good news?
Let's try to ignore the fact that in order to get hold of one of the Personal CellSpots, you need to stump up a refundable deposit -- whoever heard of renting their router? -- and ask the first question: who actually needs "HD" phone calls? Pictures are HD, and there really have been very few complaints about the overall quality of voice calls on mobiles over the years. This is just gimmicky and inefficient. T-Mobile CMO Mike Sievert indicated that customers would enjoy the portability of the device -- easy to take on the road and set up anywhere. But how many people take a router away with them? Is this really going to become the norm?
The routing of calls and texts over Wi-Fi is being dubbed "Wi-Fi Unleashed", and T-Mobile CEO and president John Legere explodes with joy talking about it:
"Wi-Fi Unleashed is a game changer. This is like adding millions of towers to our network in a single day. The difference between us and the traditional carriers is that they'll do everything they can to make more money off you. We'll do everything we can to solve your problems, and today, that's about uniting Wi-Fi with our data strong network for unprecedented coverage".
T-Mobile explains that its entire portfolio of phones will be able to take advantage of Wi-Fi calling and texting, and owner of older handsets will be given the opportunity to upgrade. With a suitable phone, any wireless access point that customers can connect to is transformed into a means of making calls and sending texts. Is this really the best use of the internet? T-Mobile customers will eat up acres of internet. Get a bunch of T-Mobilers in Starbucks and they'll just suck up all of the bandwidth that other customers could be using. Expand this idea on a national scale and the gigbytes of data being gobbled up will be staggering.
Of course there's nothing to stop people switching to making regular cellular calls, but how many people will bother? The small print on the T-Mobile website explains that "most devices will not transition between Wi-Fi and the wireless network", and "will not transition between Wi-Fi and the cellular network" -- so if you forget to switch manually, you could find that you're either cut off in the middle of a phone call as you walk down the street, or that you don't receive any calls or texts as you forgot to switch modes. Snuck into the small print is the announcement that "devices using wireless connections may be vulnerable to unauthorized attempts to access data and software stored on the device". Well that's reassuring, isn't it?
T-Mobile's announcement also includes the news of a venture with Gogo Air which will enable customers to "text, picture message, even check T-Mobile Visual Voicemail at 30,000 feet". Marvellous! That five hour cross-Atlantic flight can now be punctuated by endless beeping notifications as fliers send photos of the view out of the windows, and awestruck recipients fire off replies whose arrival in-cabin is announced with grating tones. Joy of joy.
So thanks, T-Mobile. Thanks for ruining flights, and for slowing down the internet for everyone.
Photo credit: Ralf Maassen (DTEurope) / Shutterstock