Windows 9 build 9841 screenshots and details leak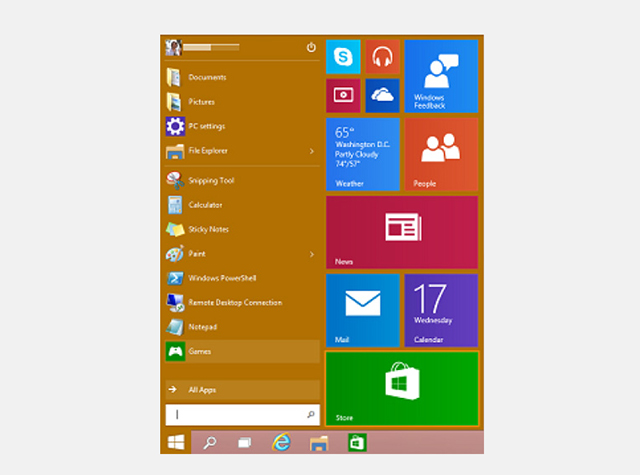 Last week we had leaked screenshots and even videos from Windows 9 build 9834, and now new screens have appeared from build 9841, or what might well be very close to the actual Technical Preview.
Whereas all the leaks last week came from WinFuture.de, these new screens come from WinSuperSite.com, which also has information on the Start menu (naturally), apps, files, personalization and more. One of the new things we learn is that anyone trying out the preview build will be able to provide feedback directly to Microsoft through a Feedback app. There can be no accusations of Microsoft not listening to customers this time around!
There's nothing hugely different about the Start menu in the latest screenshot, it still shows tiles on the right and a Windows 7-style menu on the left. Tiles can be added, removed and resized, and you can resize the Start menu itself. The new build confirms that you will be able to use the Start screen if you prefer simply by switching to it in the Navigation properties window.
As for apps, they are much the same as they are now, except they can be run in a window and a new Options button on the right lets you customize them and access system commands.
There was some uncertainty about the fate of the Charms bar, but this new build confirms that while it will be totally absent in the desktop mode, it's still in the touch-friendly Modern UI, which makes sense as it works well there.
Switching between running apps is done using the new Task view button that's to be found on the taskbar, and this can also be used to position and snap apps.
Build 9841 isn't massively different from 9834, it's just a bit more polished, suggesting we are unlikely to see any surprise features in the Technical Preview.
Microsoft is holding an event to announce Windows 9 on the 30 September, but it looks as if it could be early October now before we get our hands on the test release.