BlackBerry Passport aims for longevity with 30 hour battery life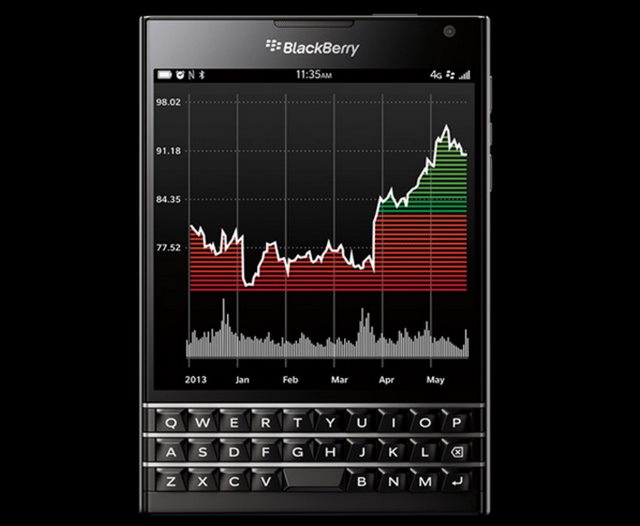 Whenever news comes from BlackBerry it feels like a voice from the past calling. Today is no different as the company announces the launch of the BlackBerry Passport, a square-screened phone designed with the corporate market in mind. This might be a phone aimed at business users, but that doesn't mean there isn't room for a little joking around: CEO John Chen quipped that the Passport is harder to bend than the iPhone 6 Plus.
The most striking feature of the handset is the 4.5 inch display with its 1400 x 1400 resolution with 453PPI, but nestling beneath this is the Passport's second most interesting feature: the three-line, touch-enabled physical keyboard.
The keyboard and screen complement each other. Opting to install a physical keyboard is something of a unique feature for BlackBerry, and it means that apps are able to make use of the screen in its entirety. The standout aspect ratio -- BlackBerry remains a fans of the squat design rather than the taller, slimmer look favored by most phone manufacturers -- means that there is room for almost twice as much text as on an iPhone; BlackBerry claims 60 characters compared to 33. The screen is not obscured by the keyboard, and the fact that the keyboard doubles as a means of navigation -- thanks touch-sensitivity! -- means that fingers also don't get in the way. The keyboard is likely to take a little while to get used to as it only has three row of buttons, and the spacebar is rather small.
The Passport runs BB OS 10.3 and is powered by a 2.2 GHz Quad-Core Qualcomm Snapdragon 801 backed up by 3GB RAM. In terms of storage, there's 32GB but a MicroSD slot means that this can be expanded by 128GB. Photographs are taken care of by a 13MP camera but the 3540mAh battery is also noteworthy -- BlackBerry claims it offers up to 30 hours of usage. Apps can be downloaded through either BlackBerry World or the Amazon Appstore.
Anyone looking to get their hands on the BlackBerry Passport can pick up an unlocked version from ShopBlackBerry.com. The handset is available in the US ($599), Canada ($699), UK (£529), France (€649), and Germany (also €649). The phone will also be available on a contract for an expected $249 and by the end of the year, availability is due to extend to more than 30 countries.
Want to know more about the BlackBerry Passport's unique design? Check out the video below for an insight: