Norton Security 2015 now available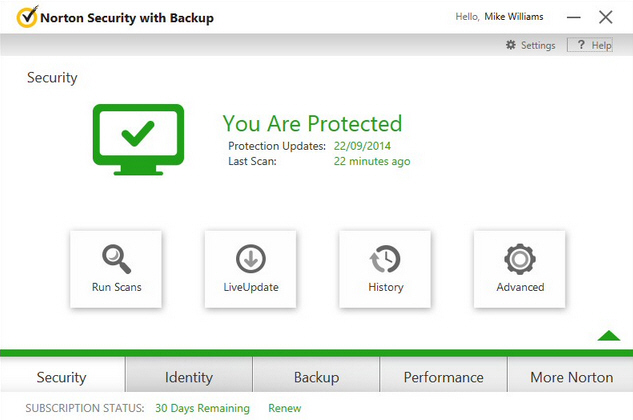 Symantec has announced the first full release of Norton Security ($79.99) and Norton Security with Backup ($89.99), its one-stop replacement for Norton Antivirus, Norton Internet Security and Norton 360.
The most obvious change is the revamped interface. It's recognizably Norton -- if greener than usual -- with its many functions neatly organized under Security, Identity, Backup and Performance tabs.
Most of the other tweaks and additions are under the hood, with a new anti-malware engine, smarter cloud integration, data leak protection and "more aggressive threat detection heuristics", apparently. (If you're used to Norton flagging up every brand new utility you download then that may not sound like good news, but we'll wait and see.)
Norton Security with Backup also adds an online backup service with 25GB of free space. More is available -- at extra cost -- if you need it.
Both products protect up to 5 devices, and support Windows XP+, current and the previous two versions of Mac OS X, iOS 6 or later and Android 2.3+ (Google Play must be available).
Symantec says that, as a result of the new releases, Norton Antivirus, Norton Internet Security and Norton 360 have started their "end of life". They'll continue to be maintained as normal for the remainder of all current subscriptions.
What current Norton users don't get, unfortunately, is any guaranteed upgrade path. This official forum post states that "NIS/N360/NAV activation keys are not able to be used in your Norton Security or Norton Security with Backup products" and advises customers to "continue using their NIS/NAV/N360 products until the end of their subscriptions", then subscribe to one of the new products.
Oddly, the same post also suggests that if you want to upgrade now, without losing subscription time for your existing products, then you should contact support via Chat "to find the best option available". Perhaps there is hope, after all.
If you'd like to try the new technology before you buy, 30-day trials of Norton Security and Norton Security with Backup are available now.