IObit Uninstaller 4 fully removes Windows 8 apps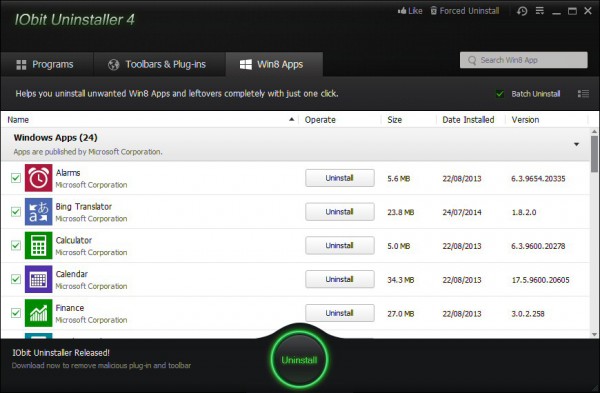 IObit has announced the release of IObit Uninstaller 4, an interesting extension of its freeware program uninstaller.
The program now has the ability to completely remove Windows 8 apps. A "batch uninstall" option ditches as many as you like in a single operation, and the "Powerful Scan" tool ensures there's no hard drive or Registry junk left behind.
System Restore integration will optionally prompt you to create a restore point before you begin.
A new "Quick Uninstall" button runs the original uninstaller silently, when possible, so you're not hassled by any messages or alerts.
Perhaps most surprising, Uninstaller 4 now automatically detects uninstalls, even if you're carrying them out from the standard Windows applet. Once these are complete it runs a background scan, displays a warning of any junk, and removes it on demand. There's a simplified interface, smarter removal of browser toolbars (IE, Firefox, Chrome and Opera are supported), and better detection of leftovers in general.
This worked well for us, but arguably it's also too intrusive, and it also left an extra process running in the background on our test PC. But if you think this is a step too far then it's easily disabled (click Settings, clear "Call Powerful Scan when uninstallation operation detected").
IObit Uninstaller 4 is available now for Windows 2000 and later.