Apple releases OS X 10.10 Yosemite -- flat, beautiful and free

Apple's OS X is a great operating system, but guess what? So is Windows. Yes, each are great in different ways, and it is OK to like both. Even if you prefer one over the other, it is silly to make fun of someone else's choice. In other words, don't be a fan-boy or bully.
Today is not about Windows however, as it is Apple's day to shine. The fruit-logo company has seen much success with OS X over the years; yes, success. Even though the operating system holds a very small percentage of the desktop market, it has impacted our overall culture and is instantly recognizable. Today however, Apple releases version 10.10 of OS X, dubbed Yosemite and it is quite possibly the most radical change to the Mac operating system. You see, much like iOS7, OS X is getting a "flat" overhaul.
"OS X Yosemite has been redesigned with a fresh, modern look, while maintaining the power and familiarity users expect from a Mac. Streamlined toolbars make more room for your content, and use translucency to reveal additional app content as you scroll. Other translucent elements, such as window sidebars, take on the feel of your desktop picture and give you a sense of what's hidden behind the active window. App icons have a clean, consistent design, and a new system font improves readability on every Mac and looks stunning on a Retina display", says Apple.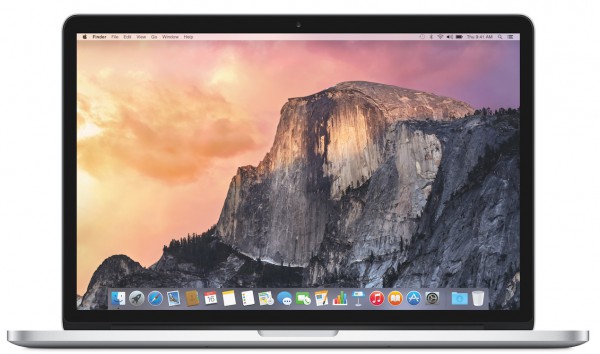 The company further explains, "Yosemite includes amazing Continuity features that make your Mac and iOS devices perfect companions. Handoff automatically passes what you're doing from one device to another, like writing an email or surfing the web. Instant Hotspot makes using your iPhone's hotspot as easy as connecting to a Wi-Fi network. AirDrop now works between Mac and iOS, so you can quickly and easily share content across devices. All the SMS messages that previously only appeared on your iPhone now can automatically appear in Messages on your Mac and all your iOS devices. You can even make and receive iPhone calls on your Mac".
Apple touts the following changes:
Today view in Notification Center, giving you quick access to informative widgets for Calendar, Weather, Stocks, Reminders, World Clock and social networks. You can also add widgets like Yahoo! Sports from the Mac App Store to customize your Today view;
a new Spotlight, delivering rich information right to your desktop from Wikipedia, Maps, Bing, App Store, iTunes Store, iBooks Store, top websites, news and movie showtimes;
iCloud Drive, so you can store files of any type in iCloud, organize them any way you like, and access them from your Mac, iPhone, iPad or even a Windows PC;
a streamlined new Safari that delivers the fastest performance, as well as the longest battery life for web browsing and Netflix HD video streaming on the Mac;
an updated version of Mail, which includes Markup for quickly filling out and signing forms and PDFs right within Mail, plus Mail Drop, which makes it easy to send large attachments up to 5GB for free;
enhanced Messages, so now you can add participants to your ongoing group conversations, see their locations on a map, quickly access attachments and even mute notifications;
iTunes 12, which has a sleek new look, is fast and simple to use, and makes it easier to switch between browsing your music library and discovering new music on the iTunes Store. A new Recents view makes it easy to access the media you just purchased or recently played; and
Family Sharing, so family members can now browse and download each other's iTunes, iBooks or Mac App Store purchases.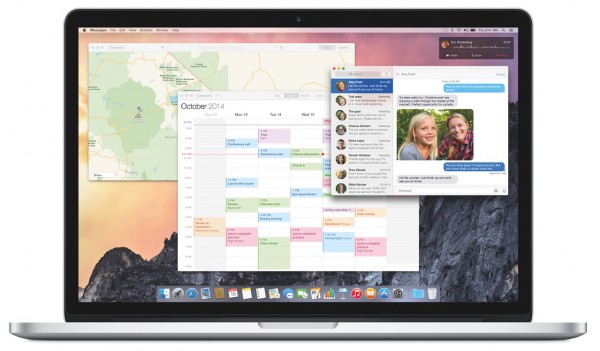 With all of these awesome new features, you probably expect to pay quite a lot of money right? Heck no! Apple is delivering OS X Yosemite as a free upgrade. In fact, it is available now from the App Store; however, please note that Apple's servers are currently being pounded, and download speeds are quite slow. I've been downloading it for about two hours now, and I apparently have 4 more days to go (it should get faster overnight).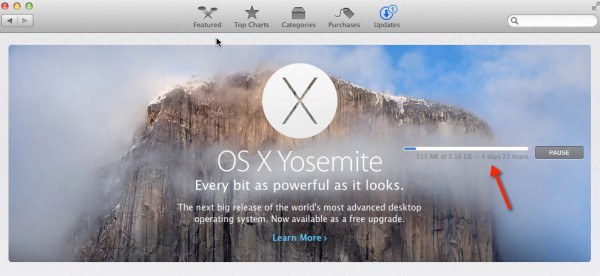 Are you excited about Yosemite? Tell me in the comments.